About the Welsh Springer Spaniel
The Welsh Springer Spaniel is a strong merry, active spaniel easily identified by its rich red and white coat and comparatively small ears. It is smaller than the show-bred English Springer, dogs measuring approximately 48cms (19 inches) at the withers (shoulders) and bitches 46cms (18inches).
In 2021 the Kennel Club registered 271 Welsh Springers and 14579 English Springers. This shows why the Welsh Springer is not as well known as its cousin.
This type of dog was bred for hunting rabbits, birds and other game in the undergrowth and getting them to run or fly, originally for the falcon but nowadays, for the gun. This was the original meaning of springing and hence the term "Springer". In the Principality of Wales, the Welsh Springer was known as a separate and distinct variety and can be traced with certainty to the eighteenth century, although the term "spaniel" was first found in the 1300′s.
Many dogs are still used for their traditional purpose and certainly an active outside life suits the breed, with at least one good free run daily. They are happy to live in the home, preferably with a companion, although they have a tendency to be noisy if bored.
Even if you do not wish to work your Welsh Springer, a degree of training using kind but firm methods is essential in order to have a sociable and socialised pet. Welsh Springers, particularly males, have immense energy and a strong nose for following game scents, even if that is not your interest!
Is a Welsh Springer Spaniel for you?
The Welsh Springer Spaniel can make an excellent choice for a family pet, being of medium size and with a happy and outgoing disposition. They are very good with children as long as respect has been installed on both sides, although their exuberance of youth can mean that very young children and puppies do not lean themselves to a particularly peaceful household.
They are highly intelligent and unbelievably affectionate, being capable with the relevant training to compete in agility, obedience, working tests and the show ring as well as fulfilling their main role of a much loved member of the family.
There are however several points to bear in mind before deciding to take on a Welsh Springer– here are some of the less attractive traits to consider:
A Welsh Springer moults and you end up with 'tumble weed' of hair around the house. They also love to get wet and mucky and whilst 'self-cleaning', all of that dried dirt deposits itself around your house  – if you are house proud, be prepared to being doing a lot more housework!
Welsh Springers can also have an aptitude to digging, do not be surprised if he/she decides to re-landscape your garden . They are also very agile and your garden needs to be well fenced and secure.
Welsh Springers do not make good kennel dogs, they thrive on human contact and want to be with you all the time. You will very quickly acquire a shadow – this needs managing from an early age to avoid problems further down the one with separation anxiety.
Although very easy to train, they will often consider commands to be optional and will only obey when they feel like it. Again, this needs enforcing from an early age in a firm but gentle manner – they do not respond to harsh training methods, they are very sensitive in nature. As the saying goes – 'Give them an inch and they will take a Mile' – you have been warned!
A Welsh Springer is a very active and intelligent dog and requires regular physical and mental stimulation. If you fail to provide this, they will find ways to entertain themselves, which may not be to your liking! –
The Welsh Springer is generally a healthy animal, with a life span of around 10 – 15 years. Unfortunately a small proportion of the breed are affected with hereditary defects which today's breeders are doing their best to manage by health testing before breeding. See The Joint Heath Welsh Springer Spaniel Health Group for further details.
The Welsh Springer is definitely not the easiest of breed to won, they require a significant amount of time and effort (especially in the early years) – But they repay your efforts tenfold and a more devoted and faithful companion would be harder to find.
So You Still Think A Welsh Springer Is For You?   
If you are considering a puppy, always buy from a reputable breeder and ensure that you are able to see the puppies with the mother. This should give you some guide as to the appearance and temperament of your potential puppy. Ensure that both parents have been tested for the relevant health checks – please see the health page and puppies available page.
Or perhaps you may prefer an older dog and would consider adopting a rescue – please see the rescue and re-homing page. 
A Short History of the Welsh Springer Spaniel
John Phillips, Chairman of the Welsh Springer Spaniel Club 1995 – 2000 and author of "The Essential Welsh Springer Spaniel" has kindly provided this updated history of the breed.
Several of the dogs mentioned in this history appear in our Champions' Gallery.
Origins
The Welsh Spaniel, as it was originally and more correctly termed, was first recognised as a distinct variety by the (British) Kennel Club in 1902, when the February Kennel Gazette said that "Additions have been made to the Spaniel classification, English Springers (other than Clumber, Sussex and Field) and also Welsh Springers (red and white) having now been provided for." In hindsight it was a pity about the name which has caused much confusion for dog lovers, in the UK at least, ever since because the term 'springer' has been appropriated by the more numerous working and showing ESS fraternity. It must be stressed that the red and white spaniels often also termed Welsh Cockers up to this date, had and have no more connection with the present English Springer than with any other variety of spaniel. During the evolutionary period of the 18th and 19th Centuries, while some fairly distinct strains of setters and spaniels clearly existed, there was also much interbreeding between spaniels of all colours, sizes and shapes, and some confusion between regional and functional labels. In the commendable attempts to produce order out of chaos, repetition of the word 'springer' would have been best avoided. Starting, or springing, game was, strictly, the function of all sporting spaniels.
Welsh Gentry
The red and white spaniel in Wales can only be traced to the 18th century. The same colours go back much further in England, at least to the 16th century, and have been common in the mixed pool of hounds and gundogs in Europe for the same time. Spaniel origins are unknown but most likely from W Europe during the early Middle Ages. Several members of South Wales gentry had kept distinctive strains for many years; in particular Mr AT Williams, of Ynys-y-Gerwn, Neath, who trialled Setters and Pointers as well as Welsh Spaniels, wrote with fervour in The Field and the Kennel Gazette in 1903 of their working talents and his concern about preservation of character and type, attesting that they had been kept by his grandfather in the late 18th century. His Corrin, a gift from the Llanharan kennel, born 1893, was the first photographed WS, a great testimony to maintenance of type ever since, and a key stud dog at this time of evolution, weighing 47 lbs, as well as a most successful show winner, and a good worker.
First Two Decades
The first two decades of the 20th century saw slow but steady growth, with 56 registrations by 1905, but a drop below 47 in 1910 until another half century in 1923. The leading exhibitor and breeder was Mrs HD Greene, of Craven Arms, Shropshire whose Longmynd bitches were immortalised in the Maude Earle painting but there were several others. Transatlantic beginnings were seen in the first decade – August A Busch in the USA imported some Llan dogs, from R Hughes of Swansea, also Longmynd Twig and L May Queen. Modern research by the writer has proved that although the final two years of the Great War saw breeding, like much else in this crisis time, at a low ebb, continuity in the breed was maintained with a few dogs. Sadly Mrs Greene, the Secretary of the first breed club, The Welsh Spaniel Club, had her kennel put down during the conflict, but breeders like DER Griffiths, Col Lewis, GW Herne, and Mr JE Jones continued in the post-war period and formed the nucleus of the new breed club started and organised in 1923 by Lt-Col John Downes-Powell, who served as Hon Secretary until 1947. "The name of the Club shall be 'The Welsh Springer Spaniel Club'. Its objects being to promote the breeding and working of Welsh Springers ……….. publish a definition of the true type ………. do all in its power to protect and advance the interest of this variety of Sporting Spaniel." The emphasis on working function was maintained, and a high proportion of the membership was obtained by the Club's running field trials for any variety of Spaniel, as well as stakes confined to the breed. Annual registrations between '26 and '38 stayed around 100, and the show ring saw some attractive animals, with entries of 30+ at KC shows in London, often more in the provinces: in 1934 in Abergavenny the Colonel drew 79 entries from 32 dogs.
Outstanding dogs included Ch Shot O'r Baili, and the Colonel's own Ch Marksman O'Mathern which he himself nominated as the finest specimen he'd ever seen. The late Harold Newman, who began showing as a boy in the late 20's, told me that he still recalled the magnetic beauty of Ch Shot, which first attracted him into the breed. One of the most influential dams was Goitre Lass, owned by Mr D Lewis of Talybont-on Usk. She had 9 litters between 1926 and 1932: 6 of them were to Ch Merglam Bang and produced 5 full Champions, 3 other CC winners and several other award winners.
Post-War Progress
Harold Newman of Treorchy, by 1939 a successful exhibitor, was proud to be asked by the Colonel to ensure the breed's survival during the Second World War. His stock, and his personality as a breeder, exhibitor and judge, were major factors in aiding the revival in popularity of the Welshman after 1945. His Dewi Sant sired 8 show and full Champions, and he started off, in Lancashire, Frank Hart (Denethorpe); in Sussex, Miss DH Ellis (Downland) who restarted the breed in the USA in 1950, and began Anne West's Linkhill kennel; and in Cardiff, the Morgans of Branksome House, who eventually sold out to T Hubert Arthur (Of Hearts) whose Freesia of Hearts was the foundation bitch of the Hunton Morgan's Dalati kennel in Llandovery.
Working Successes
The Club was restarted, all records having been destroyed in an air raid, and in 1947 Hal Leopard, now Hon Secretary with the Colonel in the Chair, continued to lead by example the small working fraternity. Two new shooting enthusiasts joining him and keeping the breed flag flying in trials in the 1950s were Dorothy Morriss (Stokecourt) in Buckinghamshire and Cliff Payne in Monmouthshire. After the cessation of Club trials in the 1960s, a revival of organised training and test in the 70s, encouraged by Dorothy Morriss and led by Gordon Pattinson MBE (Tidemarsh) and Angela Lewis (Riscoris) led to significant success for her and Ray Plunkett (Clankerry) with awards in AV Spaniel stakes. Revival of a Club breed stake in 1983 saw Eileen Falconer's Hackwood Kingfisher win in 83 and 84. Since then John Derrick's Mynyddmaen kennel from Newbridge, together with Gill Tully (Highclare) and Julie Revill (Julita) have been outstandingly successful at "Minority Breeds" events. Abroad, Brigitte Bolze is the dominant dual-purpose force in France and Europe. In the States, Chuck Erland was the first trainer to gain the Master Hunter title with a Welshie, while in Australia, Tasmania-based David Tomkinson's Nelson O'Bronte was the first Welsh to gain qualification as a Non-slip retriever.
Exhibition Achievements
Modern show dog popularity leapt forward since the mid-Sixties. British annual registrations floating around the hundred mark in the Fifties reached 210 by 1962, doubled to 400+ in 1971 and doubled again by 1989. Taken up by several experienced incomers as well as novice exhibitors, the Welsh Springer as show dog went from strength to strength with 32 sets of CCs. Beautiful dogs from small kennels have abounded, as well as those from larger collections. Space precludes mention of all but a few. Ch Brancourt Bang was, at SWKA in 1955, the first WSS to go BIS all breeds. Anne West's Sh Ch Deri Darrell broke breed records including 3 Reserves in Group (now Group 2) at Crufts and BIS at WELKS on his way to a 26 ticket total which stood for many years. Sh Ch Bruce of Brent (Perkins) won 18 CCs and BIS at LKA in 1970. Ken Burgess' Yorkshire kennel was another dominant influence with 10 Plattburn beauties winning from 1967 onwards till the last and highest scoring Sh Ch Plattburn Probability ended a brilliant career with 32 CCs, BIS at WELKS, 3 Groups and 4 Reserves in group.
The greatest large kennel in quantity and quality of influence, as well as dual-purpose attainment, was the late Cliff & Mary Payne's Tregwillym. With 10 champions made up and 5 more bred and breaking records in their time with 33 tickets from Sh Ch Golden Tint of Tregwillym in the late 60s, 30 more with Sh Ch Contessa of Tregwillym, they also supplied stud services to many smaller kennels. Ch Statesman of Tregwillym, for example, sired Deri Darrell and 5 other champions who won 60 CCs between them. Two recent breed record holders, the Young's Sh Ch Wainfelin Barley Mo (41 CCs) and Sh Ch Dalati Sarian (37 CCs) were sired, as were 3 other champions, by Tregwillym Royal Mint.
Thus honours are shared between two famous modern kennels. Dodo and Noel Hunton Morgans have broken more than one record: they themselves made up 20 show or full Dalati champions and bred 14 others in Britain alone. Dalati Sioni sired 24 Show Champions, Dalati Braint and Phil Green's Dalati Cymro of Tamaritz each sired 8 other champions. In 1997 Sh Ch Dalville Dancing Water (Thirlwell & Dalrymple) won BIS at LKA. The current record holders are Christine Knowles' Sh Ch Northoaks Sea Mist of Menstonia (42 CCs) and John Thirlwell's Sh Ch Ferdel Aeron Macgregor (60 CCs), strong and elegant specimens with outstanding achievements in top competition.
Future Survival
Landmarks in the past few decades include the formation of 3 regional breed clubs in the UK and one in Eire. The formation of the Joint Clubs' Health Group, established to monitor health problems and seek the best specialist help, is, I believe, the greatest guarantee of future survival, combined with the dedication of breeders all over the world, strongly rooted in the UK, in Europe, the USA and in Australasia, to the cause of maintaining type, temperament, soundness, and welfare.
© John Phillips 2001 (Updated 2018 to include new Breed Record Holder)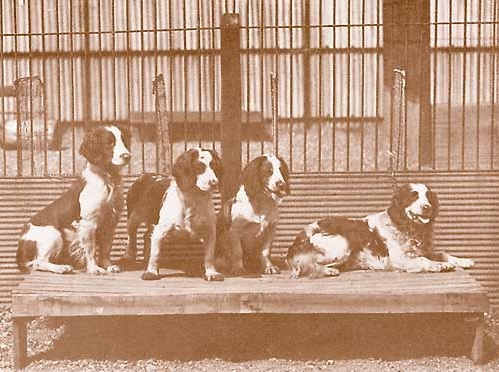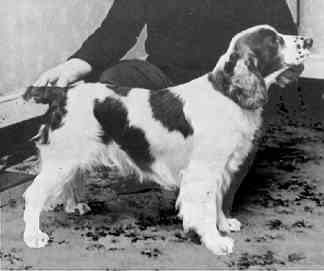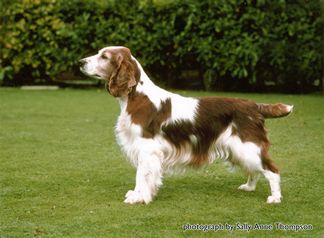 Popularity
Whilst the Welsh Springer is not a rare breed in the UK, neither is it an everyday sight (unless of course you own one!). The Kennel Club data for spaniel registrations over recent years is as follows:
The breed is currently on The Kennel Club Vulnerable Breeds List – this is any KC Registered Breeds with less than 300 puppies registered each year.
| Breed | 2021 | 2020 | 2019 | 2018 | 2017 | 2016 | 2015 | 2014 | 2013 | 2012 |
| --- | --- | --- | --- | --- | --- | --- | --- | --- | --- | --- |
| American Cocker | 251 | 204 | 267 | 190 | 252 | 270 | 223 | 233 | 263 | 318 |
| Clumber | 285 | 188 | 175 | 280 | 265 | 171 | 214 | 217 | 247 | 151 |
| Cocker | 38,910 | 25,565 | 21,663 | 23,927 | 23,317 | 21,854 | 22,577 | 22,366 | 22,943 | 23,306 |
| English Springer | 14,579 | 9,123 | 8,638 | 10,152 | 9,958 | 9,827 | 10,246 | 10,616 | 11,316 | 12,792 |
| Field | 45 | 69 | 67 | 48 | 50 | 80 | 46 | 70 | 29 | 47 |
| Irish Water | 116 | 57 | 69 | 111 | 69 | 116 | 132 | 88 | 101 | 148 |
| Sussex | 30 | 44 | 52 | 34 | 56 | 49 | 43 | 67 | 55 | 74 |
| Welsh Springer | 271 | 205 | 243 | 330 | 362 | 299 | 363 | 315 | 353 | 348 |
Selected older registrations can be seen in the table below, plotting the decline in registrations over the years.
| Breed | 2010 | 2005 | 2000 | 1994 | 1989 |
| --- | --- | --- | --- | --- | --- |
| American Cocker | 324 | 447 | 610 | 389 | 487 |
| Clumber | 271 | 192 | 150 | 223 | 182 |
| Cocker | 23,744 | 17,468 | 13,445 | 12,808 | 12,500 |
| English Springer | 13,988 | 15,180 | 12,599 | 11,904 | 11,356 |
| Field | 55 | 86 | 97 | 97 | 122 |
| Irish Water | 117 | 106 | 142 | 136 | 144 |
| Sussex | 68 | 77 | 98 | 69 | 110 |
| Welsh Springer | 338 | 442 | 424 | 562 | 800 |