CRUFTS 2023
Judge(s): MR F WHYTE

| | | |
| --- | --- | --- |
| Dog Challenge Certificate | Mrs S Nilsson | Dk Ch(u) Se U(u)ch Moonstruck John Blund Dk V-21 Euw-22 Nord V-21 |
| Reserve Dog Challenge Certificate | Mrs A Hogstrom | Don's Aston Martin |
| Bitch Challenge Certificate | Mr T Graham | Sh Ch Nyliram Telling Tales JW |
| Reserve Bitch Challenge Certificate | Mrs K Brostam Berglund | Don's Har Du Kvar Din Roda Cykel |
| Best of Breed | Mrs S Nilsson | Dk Ch(u) Se U(u)ch Moonstruck John Blund Dk V-21 Euw-22 Nord V-21 |
| Best Puppy | Miss K L Holland | Ferndel Starshine over Flatcharm |
| Best Veteran | Mrs A Chandler | Sh Ch Chanangel Sticky Wicket JW ShCM VW |
| | | |
| --- | --- | --- |
| Veteran Dog | | |
| Entries: 11 Absentees: 4 | | |
| 1st Place | Mrs A Chandler | Sh Ch Chanangel Sticky Wicket JW ShCM VW |
| 2nd Place | Mrs Ll Samuelsson | Int/dk Ch(u)/se U(u)ch/vdh Ch Pelydryns Gladiator Ww-17 |
| 3rd Place | Mrs S Goldie | Bejamac Future Fellah |
| Reserve (4th Place) | Mrs H & Mr A Brown | Bowdonia Ozzie VW |
| Very Highly Commended (5th Place) | Mrs J A & Mr S Woodhams | Glynell Jiffy |
| Minor Puppy Dog | | |
| Entries: 0 Absentees: 0 | | |
| Puppy Dog | | |
| Entries: 5 Absentees: 0 | | |
| 1st Place | Mrs C L Clarke | Tigerrock Tick Tick Boom |
| 2nd Place | Mr J S Thirlwell | Ferndel Water Stone (ai) |
| 3rd Place | Mrs B Hepworth | Kamunting's Mad Hatter |
| Reserve (4th Place) | Mrs S Goldie | Ferndel Blazing Star |
| Very Highly Commended (5th Place) | Mrs G & Mr P & Miss N Short | Toftwood Ziggy Starman |
| Class 580. Junior Dog | | |
| Entries: 4 Absentees: 1 | | |
| 1st Place | Mrs C L Clarke | Tigerrock Tick Tick Boom |
| 2nd Place | Mr J S Thirlwell | Ferndel Water Mark (ai) |
| 3rd Place | Mr S & Mrs H & Mr T & Mrs H Williams & Williams & Harrison & Harrison | Glenbrows Marquis |
| Yearling Dog | | |
| Entries: 7 Absentees: 0 | | |
| 1st Place | L S Rosio | Don's Stay Gold |
| 2nd Place | Mrs A J Graham | Don's As Bold As Brass with Nyliram (Imp Swe) JW |
| 3rd Place | Mr P & Mrs F M Stevenson | Mymmsbrook Matador with Blythway JW |
| Reserve (4th Place) | Mrs A Evans | Glenbrows Born to Be |
| Very Highly Commended (5th Place) | Mr S & Miss R Hillard | Benoveor No Easy Way Out |
| Post Graduate Dog | | |
| Entries: 10 Absentees: 1 | | |
| 1st Place | Ms Ja & Ms Sc Allen & Cochrane | Eiriandylis by George |
| 2nd Place | Miss D, Mrs T & Mr M Ritchie & Scaife | Waverleyline to Tobermory at Slapestones |
| 3rd Place | Miss S L, Mrs C L & Mr D P Nicoll | Benoveor Sail On to Antreth JW |
| Reserve (4th Place) | Miss C J & Mr I Gaylor & Robertson | Heniveruce King of Brewers |
| Very Highly Commended (5th Place) | Mrs S D Jones | Trosley Tamoshanta |
| Limit Dog | | |
| Entries: 10 Absentees: 0 | | |
| 1st Place | Mrs A Hogstrom | Don's Aston Martin |
| 2nd Place | Mrs C L Clarke | Tigerrock Magic Woundabout JW |
| 3rd Place | Mr I & Mrs D K Douglas | Chanangel Yorkshire Gold to Santallina |
| Reserve (4th Place) | Ms R Cemis | Taimere's Talk About Me |
| Very Highly Commended (5th Place) | Mrs P Wren | Llon Derwen Dar at Gwynmarren |
| Open Dog | | |
| Entries: 17 Absentees: 4 | | |
| 1st Place | Mrs S Nilsson | Dk Ch(u) Se U(u)ch Moonstruck John Blund Dk V-21 Euw-22 Nord V-21 |
| 2nd Place | Mrs H Bjorkman | Don's Red Red Wine Jww-20 |
| 3rd Place | Mrs C A Worth | Sh Ch Sarabande Lord of The Dance (ai) JW |
| Reserve (4th Place) | Mr A V & Mrs J M Rees | Hudolus Rhys Henllys at Typica ShCM |
| Very Highly Commended (5th Place) | Mrs D Koopman | Int/nl/vdh/sw Ch Wallovas Ratatat (Imp Swe) |
| Field Trial Dog | | |
| Entries: 0 Absentees: 0 | | |
| Special Working Gundog Dog | | |
| Entries: 1 Absentees: 0 | | |
| 1st Place | M. Groot | Int/nl/dk/pol Ch Isfryn On The Spot |
| Good Citizen Dog Scheme Dog | | |
| Entries: 6 Absentees: 0 | | |
| 1st Place | Mr A V & Mrs J M Rees | Hudolus Rhys Henllys at Typica ShCM |
| 2nd Place | Mrs C L Clarke | Tigerrock I'm Your Man |
| 3rd Place | Mrs Ap & Mrs M Caldwell & Mcdowell | Bowdonia Only The Brave for Cerysan |
| Reserve (4th Place) | Miss V & Miss E Ellis & Pilkington | Sh Ch Shannara Total Eclipse ShCM |
| Very Highly Commended (5th Place) | Mrs J A & Mr S Woodhams | Tobermyn Minstrel Boy |
| Veteran Bitch | | |
| Entries: 16 Absentees: 4 | | |
| 1st Place | Mrs M & Mrs C A Riese-Bassel & Worth | Am Gch/sh Ch Sarabande Sweet Nothings (AI) (re-Imp) |
| 2nd Place | Mr A, Mrs T C & Miss D T Ritchie | Sh Ch Sarabande Eternity at Slapestones (ai) JW |
| 3rd Place | Ms J Frost | Sh Ch Bushwacker Something About Mary |
| Reserve (4th Place) | Mr M & Mrs J Dyer | Benton Small Talk among Tylwyth (Imp Fin) |
| Very Highly Commended (5th Place) | Mrs W & Mr R M Montauban Van Swijndregt & Schippers | Int/es/dk/nl/be/lu/de Ch Xandu White Fan't Detica Ww20 |
| Minor Puppy Bitch | | |
| Entries: 1 Absentees: 0 | | |
| 1st Place | Ms J & A Frost | Bodlon Whole Lotta Rosie for Bushwacker |
| Puppy Bitch | | |
| Entries: 5 Absentees: 0 | | |
| 1st Place | Miss K L Holland | Ferndel Starshine over Flatcharm |
| 2nd Place | Mrs J Howarth | Ferndel Starry Eyes |
| 3rd Place | Mrs J Naunton | Trenzalore's Princess Leia |
| Reserve (4th Place) | Mrs G & Mr P P Short | Toftwood Jean Genie |
| Very Highly Commended (5th Place) | R J Casey | Tigerrock Amazing Grace |
| Junior Bitch | | |
| Entries: 5 Absentees: 0 | | |
| 1st Place | Mrs T & Mrs L Ritchie & Graham | Renascent Bleaberry at Slapestones (Imp Usa) |
| 2nd Place | Ms G.p. Płaczek | Pelydryns Stratego (impsweden) |
| 3rd Place | Mr M L & Mrs P Tew | Pamicks Dream with Me |
| Reserve (4th Place) | Ms L Tyler | Eiriandylis Life of Riley |
| Very Highly Commended (5th Place) | Mrs S Blackford | Amblelight Adhara |
| Yearling Bitch | | |
| Entries: 8 Absentees: 1 | | |
| 1st Place | Ms M Thomas | Bowdonia Truly Scrumptious |
| 2nd Place | Mrs K Brostam Berglund | Don's Mini Crini |
| 3rd Place | Mrs A C Lyon | Mymmsbrook Mismo |
| Reserve (4th Place) | Mr M L & Mrs P Tew | Pamicks Dream with Me |
| Very Highly Commended (5th Place) | Mrs S Blackford | Amblelight Adhara |
| Post Graduate Bitch | | |
| Entries: 14 Absentees: 3 | | |
| 1st Place | Mr J S Thirlwell | Ferndel Dream On (ai) |
| 2nd Place | Mrs A J Graham | Nyliram The Moth Catcher JW |
| 3rd Place | Mr A, Mrs T C & Miss D T Ritchie | Sarabande Dancing Queen at Slapestones JW (ai) |
| Reserve (4th Place) | Mrs S C Backhouse | Nyliram The Sea Glass at Aindrea |
| Very Highly Commended (5th Place) | Mr W A & Ms A Mole & Knox | Jennifer Our Loyal Welsh at Edincraw (Imp Nld) |
| Limit Bitch | | |
| Entries: 13 Absentees: 3 | | |
| 1st Place | Mr P & Mrs J Shawyer | Menstonia Wish Come True |
| 2nd Place | Mrs J L & Mr D J L Williams | Crimicar Stand by Me for Bodlon |
| 3rd Place | Mrs J & Mrs D Revill & Monday | Julita Ryveeta JW |
| Reserve (4th Place) | Mrs C A Gibson | Dearham Dilys of Cadehill |
| Very Highly Commended (5th Place) | Mesdames V & J Mcilwaine & Reynolds | Benoveor Can't Buy Me Love |
| Open Bitch | | |
| Entries: 15 Absentees: 5 | | |
| 1st Place | Mr T Graham | Sh Ch Nyliram Telling Tales JW |
| 2nd Place | Mrs K Brostam Berglund | Don's Har Du Kvar Din Roda Cykel |
| 3rd Place | Mrs J M Woodward | Hinxwood Fire and Ice |
| Reserve (4th Place) | Mrs C & Mrs T Clarke & Sherlock | Sh Ch Crimicar She's Electrick with Tigerrock JW |
| Very Highly Commended (5th Place) | Ms L Tyler | Highclare Made of Honour at Eiriandylis |
| Field Trial Bitch | | |
| Entries: 0 Absentees: 0 | | |
| Special Working Gundog Bitch | | |
| Entries: 2 Absentees: 0 | | |
| 1st Place | Mrs K M Moores | Fr/swiss Ch Bushwacker French Twist with Walgoreg |
| 2nd Place | Mrs A C Lyon | Mymmsbrook Mimosa |
| Good Citizen Dog Scheme Bitch | | |
| Entries: 9 Absentees: 1 | | |
| 1st Place | Mrs J & Mrs D Revill & Monday | Julita Ryveeta JW |
| 2nd Place | Miss S Gilmore | Summer Nights by Roxdale |
| 3rd Place | Mrs J M Morgan | Benoveor Endless Love |
| Reserve (4th Place) | Mrs L Baldry | Llon Llanharran Lleuci |
| Very Highly Commended (5th Place) | Mrs A P Caldwell | Hillpark Queen Bee for Cerysan |
CRUFTS 2022
Judge(s): MRS S M CONNOLLY
No image of the principle winners available
| | | |
| --- | --- | --- |
| Best of Breed | Ms J K Frost | Sh Ch Bushwacker Hot Gossip |
| Dog Challenge Certificate | Ms R Cemis | Taimere's Talk About Me |
| Reserve Dog Challenge Certificate | Mrs A J Graham | Sh Ch Taimere's Twister Round Nyliram JW ShCM |
| Bitch Challenge Certificate | Ms J K Frost | Sh Ch Bushwacker Hot Gossip |
| Reserve Bitch Challenge Certificate | Mrs A C Lyon | Mymmsbrook Mimosa |
| Best Puppy | Mrs A P Caldwell | Cerysan Commodore |
| Best Veteran | Ms J K Frost | Sh Ch Bushwacker Hot Gossip |
| | | |
| --- | --- | --- |
| Veteran Dog | | |
| Entries: 15 Absentees: 2 | | |
| 1st Place | Mrs A J Graham | Sh Ch Taimere's Twister Round Nyliram JW ShCM |
| 2nd Place | Miss S Barkley | Sh Ch Cherryheath's Mr Mischief JW ShCM |
| 3rd Place | Mrs A Chandler | Sh Ch Chanangel Sticky Wicket JW ShCM VW |
| Reserve (4th Place) | B & K Attwood | Ir Sh Ch Kylowen Drym ShCM |
| Very Highly Commended (5th Place) | Mrs H & Mr A Brown | Bowdonia Ozzie |
| Minor Puppy Dog | | |
| Entries: 1 Absentees: 0 | | |
| 1st Place | Mr T & Mrs A J Graham | Don's As Bold As Brass with Nyliram (Imp Swe) NAF TAF |
| Puppy Dog | | |
| Entries: 4 Absentees: 0 | | |
| 1st Place | Mrs A P Caldwell | Cerysan Commodore |
| 2nd Place | Mrs T Bennett | Cerysan Crusader |
| 3rd Place | Mrs A Chandler | Chanangel Jo Sugden |
| Reserve (4th Place) | Mr P & Mrs F M Stevenson | Mymmsbrook Matador with Blythway |
| Junior Dog | | |
| Entries: 3 Absentees: 0 | | |
| 1st Place | Mrs C L Clarke | Tigerrock I'm Your Man |
| 2nd Place | Miss S L, Mrs C L & Mr D P Nicoll | Benoveor Sail On to Antreth |
| 3rd Place | Mr T & Mrs J T Jackson | Tigerrock Gardez La Foi |
| Yearling Dog | | |
| Entries: 7 Absentees: 0 | | |
| 1st Place | Mrs C L Clarke | Tigerrock Magic Woundabout JW |
| 2nd Place | Miss C J & Mr I Gaylor & Robertson | Heniveruce King of Brewers |
| 3rd Place | Mrs S D Jones | Trosley Tamoshanta |
| Reserve (4th Place) | Mr T E & Mrs H L Hankins | Julita Rainmaker with Woodelrond |
| Very Highly Commended (5th Place) | Mrs C L Clarke | Heniverous Rainbow by Tigerrock NAF |
| Post Graduate Dog | | |
| Entries: 10 Absentees: 1 | | |
| 1st Place | Mr I & Mrs D K Douglas | Chanangel Yorkshire Gold to Santallina |
| 2nd Place | Mrs S & Mr B R Leach | Islanza Hey Dude |
| 3rd Place | Mrs S White | Mymmsbrook Malbec with Fiergen |
| Reserve (4th Place) | Miss R & Mr R Bowd | Lenamore Tiger Roll |
| Very Highly Commended (5th Place) | Miss M C Gough | Julita Rukester |
| Limit Dog | | |
| Entries: 12 Absentees: 0 | | |
| 1st Place | Ms R Cemis | Taimere's Talk About Me |
| 2nd Place | Mr M & Mrs J Millard | Ferndel High Comand at Rubylea |
| 3rd Place | Ms J A Yacoub | Laithmoor's Red Grenadine JW |
| Reserve (4th Place) | Miss S Ceriati | Fascinellie Got The Charm |
| Very Highly Commended (5th Place) | Mrs T Bennett | Helgen Romeo The Lover for Flyboron |
| Open Dog | | |
| Entries: 9 Absentees: 1 | | |
| 1st Place | Mrs & Miss Ritchie & Butler | Sh Ch Slapestones Diamond Mine JW |
| 2nd Place | Mrs C Knowles | Sh Ch Menstonia Minstrel JW |
| 3rd Place | Mrs C A Worth | Sh Ch Sarabande Lord of The Dance (ai) JW |
| Reserve (4th Place) | P Wren | Llon Lewys at Gwynmarren |
| Very Highly Commended (5th Place) | Mr R & Mrs W Schippers & Montauban Van Swijndregt | Cie/benelux Ch/dk Ch/nl Ch/be Ch/lu Ch Arvid Oscar from Montefield Green Ew'19 |
| Special Working Gundog Dog | | |
| Entries: 2 Absentees: 0 | | |
| 1st Place | Mrs K M Moores | Int Sh Ch/fr/swiss Ch Mariemead Winters Mist of Walgoreg |
| 2nd Place | Mrs J R Mr C Sutherland | Jacranella Solo |
| Good Citizen Dog Scheme Dog | | |
| Entries: 7 Absentees: 0 | | |
| 1st Place | Miss S Barkley | Cherryheath's Mr Mojito |
| 2nd Place | Mrs T Bennett | Helgen Romeo The Lover for Flyboron |
| 3rd Place | B & K Attwood | Ir Sh Ch Kylowen Drym ShCM |
| Reserve (4th Place) | Mrs Ap & Mrs M Caldwell & Mcdowell | Bowdonia Only The Brave for Cerysan |
| Very Highly Commended (5th Place) | Mrs C L Clarke | Tigerrock Two Unlimited JW ShCM |
| Veteran Bitch | | |
| Entries: 14 Absentees: 4 | | |
| 1st Place | Ms J K Frost | Sh Ch Bushwacker Hot Gossip |
| 2nd Place | Mr T D & Mrs H L Harrison | Sh Ch Glenbrows Memoir |
| 3rd Place | Ms M & Miss H Thomas & Upton | Sh Ch Bowdonia Seraphina JW ShCM |
| Reserve (4th Place) | Mr & Mrs C G Tain | Sh Ch Taimere's Takes The Biscuit JW |
| Very Highly Commended (5th Place) | Mr W A & Ms A B Mole & Knox | Tammano Crawhall at Edincraw |
| Puppy Bitch | | |
| Entries: 4 Absentees: 0 | | |
| 1st Place | Mrs C Knowles | Menstonia Magic Mystery |
| 2nd Place | Mrs A C Lyon | Mymmsbrook Mismo |
| 3rd Place | Ms M Thomas | Bowdonia Truly Scrumptious |
| Reserve (4th Place) | Mr T Graham | Nyliram Telling Tales |
| Junior Bitch | | |
| Entries: 8 Absentees: 0 | | |
| 1st Place | Mr T D & Mrs H L Harrison | Glenbrows Rhapsody |
| 2nd Place | Mrs Am & Mrs Gm & Mrs Na Walton & Coffin & Patterson | Hillpark Carys Gold |
| 3rd Place | Mrs J M Morgan | Benoveor Endless Love |
| Reserve (4th Place) | Mr W A & Ms A B Mole & Knox | Jennifer Our Loyal Welsh at Edincraw (Imp Ndl) |
| Very Highly Commended (5th Place) | Mr I & Mrs D K & Miss E Douglas & Douglas & Chandler | Eiriandylis Georgy Girl by Santallina TAF NAF |
| Yearling Bitch | | |
| Entries: 5 Absentees: 0 | | |
| 1st Place | Mrs B M Ferguson | Julita Raindance at Teaselwood |
| 2nd Place | Mrs J Naunton | Julita Raindrop of Trenzalore |
| 3rd Place | Mr T D & Mrs H L Harrison | Glenbrows Paramour |
| Reserve (4th Place) | Mrs J & Mr M Lockie | Benoveor Truly |
| Very Highly Commended (5th Place) | Mrs S Hawley | Laithmoor's Echo of Hope |
| Post Graduate Bitch | | |
| Entries: 16 Absentees: 4 | | |
| 1st Place | Miss L Morlidge | Kurzeja Kalina |
| 2nd Place | Mr T D & Mrs H L Harrison | Glenbrows Hope |
| 3rd Place | Ms J A Yacoub | Laithmoor's Alinka |
| Reserve (4th Place) | Mrs C A Gibson | Dearham Dilys of Cadehill |
| Very Highly Commended (5th Place) | Mr. S. D. Pick | Llon Mairwen O'r Mwmbwls |
| Limit Bitch | | |
| Entries: 11 Absentees: 0 | | |
| 1st Place | Mrs A C Lyon | Mymmsbrook Mimosa |
| 2nd Place | Ms F M Barnes | Nyliram Twist and Shout with Barhi |
| 3rd Place | Mr & Mrs C G Tain | Taimere's The Mistrel |
| Reserve (4th Place) | Miss S Ceriati | Glenbrows Imagery |
| Very Highly Commended (5th Place) | Mrs J & Mrs D Revill & Monday | Julita Ryveeta JW |
| Open Bitch | | |
| Entries: 15 Absentees: 2 | | |
| 1st Place | Mrs J. & Mrs J. In 't Groen- De Kovel & Tak | Orange Gold from Kind of Magic Njk, Jw, Jchlux |
| 2nd Place | Mrs J M Woodward | Hinxwood Fire and Ice |
| 3rd Place | Mrs S D Jones | Sh Ch Julita Rumours at Trosley |
| Reserve (4th Place) | Ms J K Frost | Sh Ch Bushwacker Something About Mary |
| Very Highly Commended (5th Place) | Mrs K M Moores | Fr/swiss Ch Bushwacker French Twist with Walgoreg |
| Class 3174. Special Working Gundog Bitch | | |
| Entries: 3 Absentees: 0 | | |
| 1st Place | Mrs A C Lyon | Mymmsbrook Mimosa |
| 2nd Place | Mrs J. & Mrs J. In 't Groen- De Kovel & Tak | Orange Gold from Kind of Magic Njk, Jw, Jchlux |
| 3rd Place | Mrs K M Moores | Fr/swiss Ch Bushwacker French Twist with Walgoreg |
| Good Citizen Dog Scheme Bitch | | |
| Entries: 6 Absentees: 1 | | |
| 1st Place | Miss S Barkley | Cherryheath's Miss Velocity JW |
| 2nd Place | Mrs A P Caldwell | Hillpark Queen Bee for Cerysan |
| 3rd Place | Mrs P A & Mrs L K Smith & Ozanne | Islanza Spring Into Action at Lyntonwold |
| Reserve (4th Place) | Mr W A & Ms A B Mole & Knox | Tammano Crawhall at Edincraw |
| Very Highly Commended (5th Place) | B & K Attwood | Kylowen Demelza |
CRUFTS 2021
CANCELLED DUE TO COVID 19
CRUFTS 2020
Judge(s): MR F KANE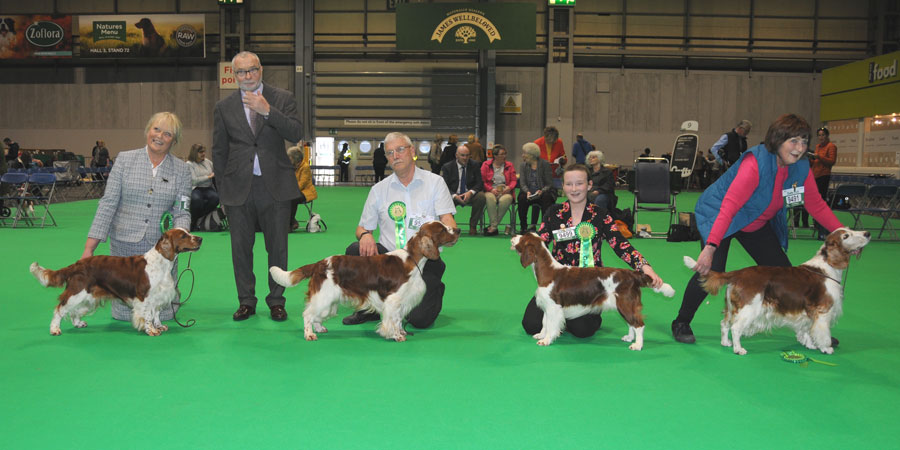 | | | |
| --- | --- | --- |
| BOB & BCC | Mrs K Brostam Berglund | SEU(U)Ch Don's Superlative [ATC AW03105SWE] |
| DCC | Mrs A J & Ms A Graham & Hogstrom | Don's Statement to Nyliram JW ShCEX (IMP SWE) |
| ResDCC | C L Clarke | Sh Ch Ferndel High Fidelity with Tigerrock ShCM ShCEX |
| ResBCC | Mrs M & Mrs C A Riese-Bassel & Worth | Sh Ch/AM GCh Sarabande Sweet Nothings (AI) (Re-Imp) |
| Best Puppy | Mrs A Chandler | Chanangel Yorkshire Rose |
| Best Veteran | Mrs R A & Miss C C Caffrey & Dods | Gellyburn Gaelic Damsel at Balcraig |
| | | |
| --- | --- | --- |
| DOG CLASSES | | |
| Veteran Dog (13 Entries, 3 Abs) | | |
| 1st | Mrs A P & Mrs M Caldwell & McDowell | Sh Ch Gemill Back To The Future for Cerysan JW ShCM |
| 2nd | Mr I & Mrs D K Douglas | Sh Ch Ferndel Justin Time ShCM |
| 3rd | Ms P Salt | Islanza Lookin For Spot (AI) |
| Res | Ms L, Mr M & Mr G Graham & Denwood | Slapestones Newman at Lyndfil |
| Vhc | Mrs A Chandler | Sh Ch Chanangel Sticky Wicket JW ShCM |
| Minor Puppy Dog (2 Entries, 0 Abs) | | |
| 1st | Mr S Leishman | Eiriandylis Chasin The Wind |
| 2nd | Mrs S & Mr B R Leach | Islanza Hey Dude |
| Puppy Dog (6 Entries, 0 Abs) | | |
| 1st | Miss R & Mr R Bowd | Lenamore Tiger Roll |
| 2nd | Mr P A & Mrs H J Osborne | Trenzaore Captain Jack at Impycelyn |
| 3rd | Mr I & Mrs D K Douglas | Chanangel Yorkshire  Gold to Santallina |
| Res | Mrs A F Wetsteyn | Dewi Our Loyal Welsh [ATC AW01715NLD] |
| Vhc | Miss J L & Mr P R Cocking & Barnaby | Bushwacker Happy Gilmore at Ruskinite |
| Junior Dog (5 Entries, 1 Abs) | | |
| 1st | Mr T D & Mrs H L Harrison | Glenbrows Revolution |
| 2nd | Mrs A J Graham | Nyliram Let's Twist Again |
| 3rd | Mrs A F Wetsteyn | Dewi Our Loyal Welsh [ATC AW01715NLD] |
| Res | Miss A Primmer | Amanshe Lone Ranger |
| Yearling Dog (8 Entries, 2 Abs) | | |
| 1st | M H Berendschot-Van Der Veer | Nicky-Lynley Van Lindestate NJK'19/BNLXJW'19 [ATC AW03003NLD] |
| 2nd | Miss M A Varley | Tammano Wigeon |
| 3rd | Miss S Barkley | Chanagel Mr Whodat at  Cherryheath JW |
| Res | Mr R E & Mrs S A Wright | Taihang Hawthorn |
| Vhc | | |
| Post-Graduate Dog (16 Entries, 1 Abs) | | |
| 1st | Mrs S Goldie | Bejamac Future Fellah |
| 2nd | Mrs P M Wren | Llon Lewys at Gwynmarren |
| 3rd | Mr I & Mrs D K Douglas | Bonvis Cadfael to Santallina |
| Res | Mrs C & Mr S Tayler | Julita Rhyne |
| Vhc | Mrs T Bennett | Helgen Romeo The Lover |
| Limit Dog (16 Entries, 0 Abs) | | |
| 1st | Mrs T C & Miss L J Ritchie & Butler | Slapestones Diamond Mine JW |
| 2nd | Mrs C A Worth | Sarabande Lord Of The Dance AI JW |
| 3rd | Mrs F Keiller | Tammano Stoorworm |
| Res | Mrs H & Mr A Brown | Bowdonia Ozzie |
| Vhc | Mesdames V & J McIlwaine & Reynolds | Glenbrows Van Gogh for Benoveor JW |
| Open Dog (14 Entries, 3 Abs) | | |
| 1st | Mrs A J & Ms A Graham & Hogstrom | Don's Statement to Nyliram JW ShCEX (Imp SWE) |
| 2nd | C L Clarke | Sh Ch Ferndel High Fidelity with Tigerrock ShCM ShCEX |
| 3rd | Mr S Oliver | Sh Ch Glenbrows Royal Dragon |
| Res | Mrs J Howarth | Sh Ch Quensha You've Got A Friend at Arkview ShCM |
| Vhc | Mrs A J Graham | Sh Ch Taimere's Twister round Nyliram JW ShCM |
| Special Working Gundog Dog (5 Entries, 1 Abs) | | |
| 1st | Mgr J A Samsel | CIE/CIB/PL/GRPL/SRB/H/CZ Ch Easy Victory Adea EUJW'17 JCH PL/UA [ATC AU01594POL] |
| 2nd | Mrs J R & Mr C Sutherland | Jacrenella Solo |
| 3rd | Mrs K M Gorman | Int Sh Ch/Fr Ch/Swiss Ch Mariemead Winters Mist of Walgoreg |
| Res | Miss Jensen | CIE/DKCh/HuCh/DEVDHCh Amica Adara's Cool Carlo WJW'13 [ATC AW02386DNK] |
| Good Citizen Dog Scheme Dog (9 Entries, 0 Abs) | | |
| 1st | Mrs S Goldie | Bejamac Future Fellah |
| 2nd | Mrs F Keiller | Tammano Stoorworm |
| 3rd | Miss E K Green | Eurion Jasper |
| Res | Mr A V & Mrs J M Rees | Hudolus Rhys Henllys at Typica ShCM |
| Vhc | Mrs T Bennett | Helgen Romeo The Lover |
| BITCH CLASSES | | |
| Veteran Bitch (16 Entries, 2 Abs) | | |
| 1st | Mrs R A & Miss C C Caffrey & Dods | Gellyburn Gaelic Damsel  at Balcraig |
| 2nd | Ms J Frost | Sh Ch Bushwacker Hot Gossip |
| 3rd | Mrs C Madeley | Barhi Flaming Star at Maytag |
| Res | Mrs H LEARY | Sh Ch Menstonia Minty of Haslemount JW |
| Vhc | Mrs S Blackford | Amblelight Sunglow |
| Minor Puppy Bitch (1 Entry, 0 Abs) | | |
| 1st | Mr M L & Mrs P Tew | Pamicks Jazzy Ah Girl |
| Puppy Bitch (6 Entries, 0 Abs) | | |
| 1st | Mrs A Chandler | Chanangel Yorkshire Rose |
| 2nd | Ms J Frost | Bushwacker Along Came Polly |
| 3rd | Mr T D & Mrs H L Harrison | Glenbrows Imagery |
| Res | Mrs R, Mrs D & Mr V Diamond & Boumonte | Roxdale Midnight Lace |
| Vhc | Miss L Morlidge | Kurzeja Kalina |
| Junior Bitch (11 Entries, 3 Abs) | | |
| 1st | C L & T Clarke & Sherlock | Crimicar She's Electrick with Tigerrock JW |
| 2nd | Mrs G & Mr P P Short | Ferndel Fire Gem at Toftwood |
| 3rd | Mrs S & Miss K Blackford | Amblelight Porcia |
| Res | Mrs J & Mrs D Revill & Monday | Julita Ryveeta JW |
| Vhc | Ms F M Barnes | Nyliram Twist And Shout with Barhi |
| Yearling Bitch (10 Entries, 3 Abs) | | |
| 1st | M H Berendschot-Van Der Veer | Nellwyn-Laelia Van Lindestate NJK'19/BNLXJW'19 [ATC AW03002NLD] |
| 2nd | Miss L & Miss N Tyler & Shiels | Tammano Teal at Eiriandylis |
| 3rd | Mesdame V & J McIlwaine & Reynolds | Benoveor Can't Buy Me Love |
| Res | Mrs S & Miss K Blackford | Amblelight Porcia |
| Vhc | Mrs J Groen | Orange Gold from Kind Of Magic NJK/BJK/LJK'19 [ATC AW02169NLD] |
| Post-Graduate Bitch (14 Entries, 2 Abs) | | |
| 1st | Mrs K Brostam Berglund | Don's Har Du Kvar Din Roda Cykel [ATC AW00339SWE] |
| 2nd | Miss P Burchmore & Mr R Bowd | Bowdonia Moon River JW |
| 3rd | Mrs K Lancett | Cwmbeili Madlen |
| Res | Mrs D J & Miss H K H Bonser Hadfield & Hadfield | Glenbrows Faith |
| Vhc | Ms J A Yacoub | Laithmoor's Alinka |
| Limit Bitch (17 Entries, 0 Abs) | | |
| 1st | Mrs A Lyon | Mymmsbrook Mimosa |
| 2nd | Miss L & Miss N Tyler & Shiels | Highclare Made Of Honour at Eiriandylis |
| 3rd |  Mr S D Pick | Llon Blodyn Ymenyn |
| Res | Mrs S Blackford | Amblelight Sunglow |
| Vhc | Mr Owen | Typica Seren Aur |
| Open Bitch (14 Entries, 0 Abs) | | |
| 1st | Mrs K Brostam Berglund | SEU(U)Ch Don's Superlative [ATC AW03105SWE] |
| 2nd | Mrs M & Mrs C A Riese-Bassel & Worth | Sh Ch/AM GCh Sarabande Sweet Nothings (AI) (Re-Imp) |
| 3rd | Mrs M L & Mrs A L Place & Halliday | Tammano Cadell at Aarminias |
| Res | Ms J Frost | Sh Ch Bushwacker Something About Mary |
| Vhc | Mr & Mrs C G Tain | Sh Ch Taimere's Takes The Biscuit JW |
| Special Working Gundog Bitch (5 Entries, 0 Abs) | | |
| 1st | Mrs A Lyon | Mymmsbrook Mimosa |
| 2nd | Mrs K M Gorman | Bushwacker French Twist with  Walgoreg |
| 3rd | Mrs J R & Mr C Sutherland | Ch Julita Rezanella of Jacranella |
| Res | Miss Jensen | CIE/HuCH Amica Adara's Essence Of Beauty [ATC AW02384DNK] |
| Vhc | Mrs S White | Fiergen Steamy Windows |
| Good Citizen Dog Scheme Bitch (8 Entries, 0 Abs) | | |
| 1st | Mrs J R & Mr C Sutherland | Jacranella Sonata |
| 2nd | Mrs B M Ferguson | Taihang Scherezade at Teaselwood |
| 3rd | Mrs K W Lampersberger | Benoveor Field Of Dreams to Kurzeja |
| Res | Mr W & Ms A Mole & Knox | Tammano Crawhall at Edincraw |
| Vhc | Miss S Barkley | Cherryheath's Miss Velocity JW |
CRUFTS 2019
Judge(s): MISS C C DODS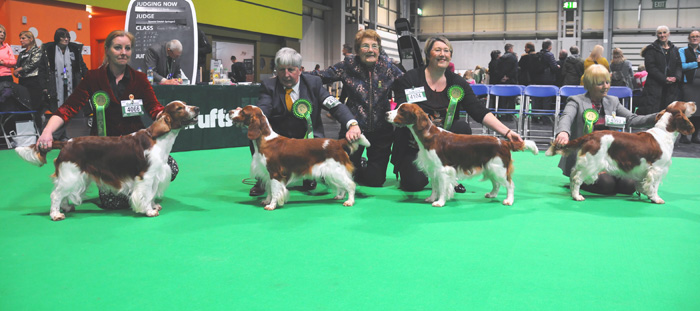 | | | |
| --- | --- | --- |
| BOB & BCC | Mrs M & Mrs C A Riese-Bassel & Worth | AM GCh Sarabande Sweet Nothings (AI) (Re-Import) (AT1) |
| DCC | C L Clarke | Ferndel High Fidelity with Tigerrock ShCM |
| RDCC | Miss V & Miss E Ellis & Pilkington | Shannara Total Eclipse ShCM |
| RBCC | A,TC,& D Ritchie | Sarabande Eternity at Slapestones (AI) JW |
| Best Puppy | Mr & Mrs T Harrison | Glenbrows Temptress |
| Best Veteran | Ms L, Mr M & Mr G Graham & Denwood | Slapestones Heart (AI) |
| | | |
| --- | --- | --- |
| Veteran Dog (16 Entries, 5 Abs) | | |
| 1st | Douglas | Sh Ch Ferndel Justin Time ShCM |
| 2nd | Place | Slapestones Sinatra at Aarminias JW ShCM |
| 3rd | McIlwaine & Reynolds | Sh Ch Glenbrows Band Of Brothers for Benoveor JW ShCM |
| Res | Tolladay | Sh Ch Ferndel Comander of Bethersden ShCM |
| Vhc | Clarke | Jeavart Different Strokes by Tigerrock JW ShCM |
| Minor Puppy Dog (2 Entries, 0 Abs) | | |
| 1st | Varley | Tammano Wigeon |
| 2nd | Wright | Taihang Hawthorn |
| Puppy Dog (6 Entries, 1 Abs) | | |
| 1st | Harrison | Glenbrows This Is Me |
| 2nd | Knowles | Menstonia Minstrel |
| 3rd | Murray | Madsprings Drogon from Priestbeck |
| Res | Phillipson | Menstonia Meteor |
| Vhc | Sweetland | Orient Eexpress Du Domaine De Kerarzic Vilin |
| Junior Dog (7 Entries, 0 Abs) | | |
| 1st | Ritchie & Butler | Slapestones Diamond Mine |
| 2nd | Wren | Llon Lewys at Gwynmarren |
| 3rd | Cemis | Taimere's Talk About Me |
| Res | Knowles | Menstonia Make Mischief |
| Vhc | Douglas | Bonvis Cadfael to Santallina |
| Yearling Dog (10 Entries, 1 Abs) | | |
| 1st | Worth | Sarabande Lord Of The Dance (AI) JW |
| 2nd | Yacoub | Laithmoor's Red Grenadine |
| 3rd | Buckwell | Killena Ghostrider |
| Res | Schippers & Montauban Van Swijndregt | NL/BE/BENELUX/JCh Arvid Oscar from Montefield Green [ATC AV02191NLD] |
| Vhc | Le Maitre | Vannelmead Gelert |
| Post Graduate Dog (18 Entries, 0 Abs) | | |
| 1st | McIlwaine & Reynolds | Glenbrows Van Gogh for Benoveor JW |
| 2nd | Jenkins | Cwmbeili Morgan |
| 3rd | Keiller | Tammano Stoorworm |
| Res | Oliver | Glenbrows Royal Dragon (AU1) |
| Vhc | Janes | Cwmbeili Gwilym |
| Limit Dog (13 Entries, 0 Abs) | | |
| 1st | Clarke | Ferndel High Fidelity with Tigerrock ShCM |
| 2nd | Riley | Ferndel Peanut Butter at Ravensworth JW |
| 3rd | Rees | Hudolus Rhys Henllys at Typica ShCM |
| Res | Graham & Hogstrom | Don's Statement to Nyliram JW (IMP SWE) |
| Vhc | McCann | Slapestones Tidal Force |
| Open Dog (17 Entries, 2 Abs) | | |
| 1st | Worth | Sarabande Perfect Storm (AI) ShCM |
| 2nd | Harrison | Sh Ch Glenbrows Picture Me Now JW |
| 3rd | Graham | Sh Ch Taimere's Twister round Nyliram JW ShCM |
| Res | Howarth | Quensha You've Got A Friend at Arkview ShCM |
| Vhc | Butler-Holley & Holley | Sh Ch Shandwick Promise |
| Special Working Gundog Dog (3 Entries, 0 Abs) | | |
| 1st | Sutherland | Jacranella Solo |
| 2nd | Groot | Dutch/Int Ch Isfryn On The Spot |
| 3rd | Samsel | Int/PL/GR PL/SRB Ch Easy Victory Adea EUJW'17 JCH PL/UA [ATC AU01594POL] |
| Good Citizen Dog Scheme Dog (10 Entries, 0 Abs) | | |
| 1st | Ellis & Pilkington | Shannara Total Eclipse ShCM |
| 2nd | Murray | Lyndfil Simba from Priestbeck |
| 3rd | Barkley | Sh Ch Cherryheath's Mr Mischief JW ShCM |
| Res | Keiller | Tammano Stoorworm |
| Vhc | Attwood | Ir Sh Ch Kylowen Drym ShCM |
| Veteran Bitch (11 Entries, 3 Abs) | | |
| 1st | Graham & Denwood | Slapestones Heart |
| 2nd | Frost | Bushwacker Hot Gossip |
| 3rd | Attwood | Ir Sh Ch Moorash Lady Ygraine of Kylowen ShCM |
| Res | Madeley | Barhi Flaming Star at Maytag |
| Vhc | Ellis | Glenbrows Fascination with Shannara |
| Minor Puppy Bitch (2 Entries, 0 Abs) | | |
| 1st | Tyler | Tammano Teal at Eiriandylis |
| 2nd | Mackness | Blythway Sundance Gold |
| Puppy Bitch (9 Entries, 0 Abs) | | |
| 1st | Harrison | Glenbrows Temptress |
| 2nd | McIlwaine & Reynolds | Benoveor Can't Buy Me Love |
| 3rd | Whitfield | Benoveor Ticket To Ride |
| Res | Mole & Knox | Zaza Florence Our LoyalL Welsh at Edincraw (IMP NDL) |
| Vhc | Diamond & Edwards | Roxdale Mothers Gift |
| Junior Bitch (11 Entries, 3 Abs) | | |
| 1st | Graham & Denwood | Slapestones Pink Promise at Lyndfil |
| 2nd | Knowles | Menstonia Make A Wish |
| 3rd | Thirlwell | Ferndel Fooling Star |
| Res | Tain | Taimere's Taken With Tea |
| Vhc | Baldry | Llon Llanharren Lleuci |
| Yearling Bitch (15 Entries, 3 Abs) | | |
| 1st | Revill & Taylor | Julita Rhubette JW |
| 2nd | Ratcovich | Billben's Favoloso Risoni [ATC AV02574SWE] |
| 3rd | Morgan & Schofield | Cwsscwn De Ja Vu (AI) |
| Res | Worth | Sarabande Dance To The Rhythm (AI) JW |
| Vhc | Koopman | Wallovas Icona Pop NJCh, BJCh, VDH Jh, LUX JCh [ATC AW00784SWE] |
| Post Graduate Bitch (21 Entries, 2 Abs) | | |
| 1st | Perkins | Brent Love Me Do |
| 2nd | Owen | Typica Seren Aur |
| 3rd | Jones | Julita Rumours at Trosley |
| Res | Tyler | Highclare Made Of Honour at Eiriandylis |
| Vhc | Lancett | Cwmbeili Madlen |
| Limit Bitch (17 Entries, 1 Abs) | | |
| 1st | Graham & Denwood | Lyndfil Zazu JW |
| 2nd | Graham | Ferndel Cover Story about Nyliram JW |
| 3rd | Backhouse | Glenbrows Truth about Aindrea |
| Res | Morgan & Schofield | Ferndel Bon Bon for Cwsscwn |
| Vhc | Groen | Gilliflower from Kind Of Magic JW'16/ W'17/ W'18 [ATC AV00372NLD] |
| Open Bitch (16 Entries, 2 Abs) | | |
| 1st | Riese-Bassel & Worth | Am GCh Sarabande Sweet Nothings (AI) (Re-Import) (AT1) |
| 2nd | Ritchie | Sarabande Eternity at Slapestones (AI) JW |
| 3rd | Thomas | Bowdonia Anastasia JW |
| Res | Tolladay | Ferndel High Society to Bethersden |
| Vhc | Tain | Sh Ch Taimere's Takes The Biscuit JW |
| Special Working Gundog Bitch (2 Entries, 0 Abs) | | |
| 1st | Sutherland | Ch Julita Rezanella of Jacranella |
| 2nd | White | Fiegen Steamy Windows |
| Good Citizen Dog Scheme Bitch (10 Entries, 0 Abs) | | |
| 1st | Ritchie | Sh Ch Slapestones Mouna JW |
| 2nd | Thomas | Sh Ch Bowdonia Moment To Shine |
| 3rd | Sutherland | Sh Ch Jacranella Symphony |
| Res | Barkley | Cherryheath's Miss Velocity JW |
| Vhc | Attwood | Kylowen Demelza |
CRUFTS 2018
Judge(s): MISS G TULLY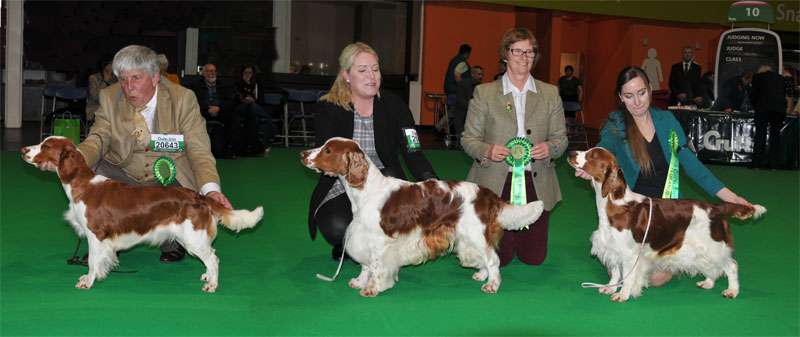 | | | |
| --- | --- | --- |
| BCC & BOB | Ms J Frost | Bushwacker Something About Mary |
| DCC | Mrs Samuelsson | SE U(U)CH/DK CH(U) Pelydryns Gladiator WW-17 [ATC AU02565SWE] |
| RDCC | Mrs H & Mr A Brown | Bowdonia Ozzie |
| RBCC | Mrs S D Jones | Julita Rumours at Trosley |
| Best Puppy | Mrs C A Worth | Sarabande Dance To The Rhythm (AI) |
| | | |
| --- | --- | --- |
| Veteran Dog (13 Entries, 2 Abs) | | |
| 1st | McIlwaine & Reynolds | Sh Ch Glenbrows Band Of Brothers for Benoveor JW ShCM |
| 2nd | Caldwell & McDowell | Sh Ch Gemill Back To The Future for Cerysan JW ShCM |
| 3rd | Batey | Break The Rules at Pegasett |
| Res | Evans | Typica Kingfisher |
| Vhc | Johnston | Coedybrain Terfel at Diales |
| Minor Puppy Dog (0 Entries) | | |
| Puppy Dog (4 Entries, 0 Abs) | | |
| 1st | Worth | Sarabande Lord Of The Dance |
| 2nd | Le Maitre | Vannelmead Gelert |
| 3rd | Mercer | Amblelight Cassiopeia |
| Res | Buckwell | Killena Ghostrider |
| Junior Dog (9 Entries, 0 Abs) | | |
| 1st | Keiller | Tammano Stoorworm |
| 2nd | Oliver | Glenbrows Royal Dragon |
| 3rd | McIlwaine & Reynolds | Glenbrows Van Gogh for Benoveor |
| Res | Graham & Hogstrom | Don's Statement to Nyliram |
| Vhc | Perkins | Brent Part Time Lover |
| Yearling Dog (8 Entries, 0 Abs) | | |
| 1st | Samsel | Easy Victory Adea [ATC AU01594POL] |
| 2nd | Hogstrom | Don's Superman Nojv-17 |
| 3rd | Janes | Cwmbeili Gwilym |
| Res | Oliver | Glenbrows Royal Dragon |
| Vhc | Wren | Llon Derwen Dar at Gwynmarrwn |
| Post Graduate Dog (18 Entries, 1 Abs) | | |
| 1st | Brown | Bowdonia Ozzie |
| 2nd | Tak-Dannenburg | Golddiger From Kind Of Magic NJK'16, JW'16 [ATC AV00161NLD] |
| 3rd | Rees | Hudolus Rhys Henllys at Typica |
| Res | McCann | Slapestones Tidal Force |
| Vhc | Riley | Ferndel Peanut Butter at Ravensworth |
| Mid Limit Dog (6 Entries, 0 Abs) | | |
| 1st | Caldwell & McDowell | Bowdonia Only The Brave for Cerysan |
| 2nd | Riley | Ferndel Buttermint at Ravensworth |
| 3rd | Woodham | Tobermyn Minstrel Boy |
| Res | Luckett-Roynon | Solva Captain Vere |
| Vhc | Tubb | Slapestones Tidal Wave for Alsutu |
| Limit Dog (16 Entries, 0 Abs) | | |
| 1st | Clarke | Ferndel High Fidelity with Tigerrock |
| 2nd | McIlwaine & Reynolds | Kamunting Cast Away To Benoveor JW |
| 3rd | Howarth | Quensha You've Got A Friend at Arkview |
| Res | Hogstrom | Don's Black Star JWW'17 [ATC AV00418SWE] |
| Vhc | Blackford | Amblelight Galatea |
| Open Dog (18 Entries, 1 Abs) | | |
| 1st | Samuelsson | SE U(U)CH/DK CH(U) Pelydryns Gladiator WW-17 [ATC AU02565SWE] |
| 2nd | Graham | Sh Ch Taimere's Twister round Nyliram JW ShCM |
| 3rd | Harrison | Sh Ch Glenbrows Picture Me Now JW |
| Res | Haven Sorensen & Pettersson | INT/NORDUCH/DKUCH/SEU(U)CH/NOU Ch Welford's Harrington Hall NORDV-11 NORDJV-11 [ATC AU02753SWE] |
| Vhc | Philipson | Sh Ch Menstonia Marksman ShCM |
| Field Trial Dog (0 Entries) | | |
| Special Working Gundog Dog (4 Entries, 0 Abs) | | |
| 1st | Samsel | INT/PL/ROM/ROMCL/UA/CRO/SK/MNE/MKD/AZE/GEO/SMR/SRB/LV/FIN Ch Mariusz S Umbra Amabilis WW'12'14, EUW'12 [ATC AP01207POL] |
| 2nd | Cooper | Fiergen City Limits |
| 3rd | Ducourtioux | FR Ch Imoko D'ann Cambris [ATC AU01832FRA] |
| Res | | |
| Good Citizen Dog Scheme Dog (13 Entries, 3 Abs) | | |
| 1st | Barkley | Sh Ch Cherryheath's Mr Mischief JW |
| 2nd | Rees | Hudolus Rhys Henllys at Typica |
| 3rd | Groot | NL/BE Ch Isfryn On The Spot |
| Res | Poppleton | Haltonian King Lear |
| Vhc | Johnston | Coedybrain Terfel at Diales |
| Veteran Bitch (14 Entries, 4 Abs) | | |
| 1st | Karlsson | INT Ch Don's Darling Deluxe [ATC AU03135SWE |
| 2nd | Thomas | Sh Ch Bowdonia Sweet Dreams JW |
| 3rd | Caffrey & Dods | Sh Ch Gellyburn Damselfly JW ShCM |
| Res | Chandler | Glenbrows Paper Pageant |
| Vhc | Samuelsson | INT/NORD UCh Pelydryns Onyx [ATC AS01759SWE] |
| Minor Puppy Bitch (0 Entries) | | |
|  Puppy Bitch (5 Entries, 0 Abs) | | |
| 1st | Worth | Sarabande Dance To The Rhythm (AI) |
| 2nd | Le Maitre | Vannelmead Freya |
| 3rd | Ferguson | Taihang Scherezade at Teaselwood |
| Res | Ellis | Vannelmead Branwen at Blithbrook |
| Vhc | Place | Aarminias For The First Time |
| Junior Bitch (14 Entries, 1 Abs) | | |
| 1st | Graham | Ferndel Cover Story about Nyliram JW |
| 2nd | Gorman | Bushwacker French Twist with Walgoreg |
| 3rd | Woodward | Hinxwood Fire And Ice |
| Res | Backhouse | Glenbrows Romance at Aindrea |
| Vhc | Perkins | Brent Love Me Do |
| Yearling Bitch (8 Entries, 0 Abs) | | |
| 1st | Jones | Julita Rumours at Trosely |
| 2nd | Pick | Llon Blodyn Ymenyn |
| 3rd | Tew | Pamicks Field Of Dreams JW |
| Res | Whitfield | Glenbrows Heart To Heart |
| Vhc | Lancett | Cwmbeili Madlen |
| Post Graduate Bitch (17 Entries, 2 Abs) | | |
| 1st | Ritchie | Sarabande Eternity At Slapestones JW (AI) |
| 2nd | Tyler & Shiels | Tammano Knights Pearl at Eiriandylis |
| 3rd | Owen | Typica Seren Aur |
| Res | Hawley | Sorrel Berry Maternal Love |
| Vhc | Woodward | Sarabande Billie Jean at Hinxwood (AI) |
| Mid Limit Bitch (7 Entries, 1 Abs) | | |
| 1st | Roland-Shrubb | Ypagneul Coco at Bichere |
| 2nd | Lampersberger | Benoveor Field Of Dreams to Kurzeja |
| 3rd | Mole & Knox | Tammano Crawhall at Edincraw |
| Res | Buckwell | Killena Dance With Moonlite |
| Vhc | Lyon | Mymmsbrook Mimosa |
| Limit Bitch (12 Entries, 1 Abs) | | |
| 1st | Frost | Bushwacker Something About Mary |
| 2nd | Thomas | Bowdonia Anastasia JW |
| 3rd | Lemin | Bonvis Fern |
| Res | Tolladay | Ferndel High Society to Bethersden |
| Vhc | Sutherland | Jacranella Serenade |
| Open Bitch (19 Entries, 6 Abs) | | |
| 1st | Harrison | Glenbrows Memoir |
| 2nd | Hogstrom | NOUCh/SEU(U)Ch Sallebacks Una Torta per Dons [ATC AT02311SWE] |
| 3rd | Thomas & Upton | Sh Ch Bowdonia Seraphina JW ShCM |
| Res | Millard | Sh Ch Ferndel Fairy Tale at Rubylea |
| Vhc | Sutherland | Sh Ch Jacranella Symphony |
| Field Trial Bitch (1 Entries, 0 Abs) | | |
| 1st |  Lyon | Bushwacker Hotspot of Mymmsbrook |
| Special Working Gundog Bitch (1 Entries, 0 Abs) | | |
| 1st | Hendrych | Akira Z Jircanskych Aleji [ATC AU02993CZE] |
| Good Citizen Dog Scheme Bitch (8 Entries, 1 Abs) | | |
| 1st | Tyler & Shiels | Tammano Knights Pearl at Eiriandylis |
| 2nd | Lampersberger | Benoveor Field Of Dreams to Kurzeja |
| 3rd |  Mole & Knox | Tammano Crawhall at Edincraw |
| Res | Watson | Welingerhill Garden Tiger of Hillpark |
| Vhc | Charles | Stagarth A Kind Of Magic |
CRUFTS 2017
Judge(s): MR M YOUNG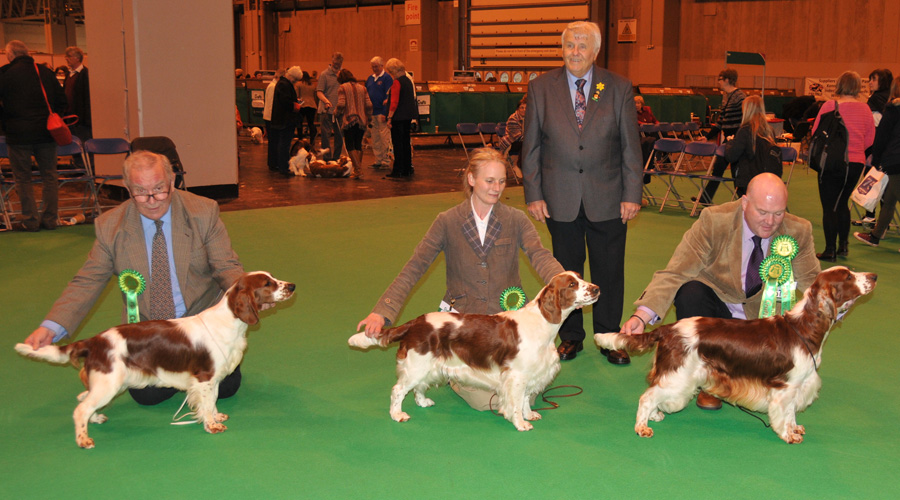 | | | |
| --- | --- | --- |
| DCC & BOB | Mr T D & Mrs H L Harrison | Sh Ch Glenbrows Trademark JW |
| RDCC | Mrs A J Graham | Taimere's Twister Round Nyliram JW ShCM |
| BCC | Mrs J & Mr C Sutherland | Jacranella Symphony |
| RBCC | Ms M Thomas | Sh Ch Bowdonia Moment To Shine |
| Best Puppy | Mr S Pick | Llon Blodyn Ymenyn |
| | | |
| --- | --- | --- |
| Veteran Dog (15 Entries, 3 Abs) | | |
| 1st | MISS L & MISS N TYLER & SHIELS | EIRIANDYLIS JEMS JASPER SHCM |
| 2nd | MISS S L, MRS C L & MR D P NICOLL | AMBLELIGHT SUHAIL AT ANTRETH |
| 3rd | MR S D PICK | LLON ANEURIN |
| Res | MRS A M, MRS G M & MISS N A WALTON & COFFIN | AM CH COLE CREEK HAWK EYE AT HILLPARK (IMP USA) |
| Vhc | MR T D & MRS H L HARRISON |  SH CH GLENBROWS PICTURE THIS JW SHCM |
| Minor Puppy Dog (1 Entries, 0 Abs) | | |
| 1st | P M WREN | LLON DERWEN DAR AT GWYNMARREN |
| Puppy Dog (4 Entries, 0 Abs) | | |
| 1st | MRS A DAVIS | JULITA RUTLAND |
| 2nd | MRS D & MR S JENKINS | CWMBEILI MORGAN |
| 3rd | MRS J JANES | CWMBEILI GWILYM |
| Res | MISS H & MRS A MOUNTCASTLE | CRIMICAR SKYS THE LIMIT |
| Junior Dog (8 Entries, 1 Abs) | | |
| 1st | MR J S THIRLWELL | FERNDEL GLENFIDDICH |
| 2nd | MRS C KNOWLES | MENSTONIA MASTERSTROKE |
| 3rd | MR J & MRS H RILEY | FERNDEL BUTTERMINT AT RAVENSWORTH |
| Res | MR J & MRS H RILEY | FERNDEL PEANUT BUTTER AT RAVENSWORTH |
| Vhc | MRS J A & MR S WOODHAMS | GLYNELL JIFFY |
| Yearling Dog (9 Entries, 1 Abs) | | |
| 1st | MRS A HOGSTROM | CLUSSEXX ALL THE RAGE AT DONS [ATC AT02718USA] |
| 2nd | MRS J R MR C SUTHERLAND | JACRANELLA SOLO |
| 3rd | MR T D & MRS H L HARRISON | GLENBROWS PICTURE ME NOW JW |
| Res | MR A V & MRS J M REES | TYPICA FLASH HARRY JW |
| Vhc | MISS V & MISS E ELLIS & PILKINGTON | SHANNARA TOTAL ECLIPSE |
| Post Graduate Dog (13 Entries, 2 Abs) | | |
| 1st | MS P SALT | ISLANZA LOOKIN FOR SPOT (AI) |
| 2nd | MS J A & MS J A SAMSEL & YACOUB | LAITHMOOR'S MAREK |
| 3rd | MRS Y POPPLETON | HALTONIAN KING LEAR |
| Res | MRS A P & MRS M CALDWELL & MCDOWELL | BOWDONIA ONLY THE BRAVE FOR CERYSAN |
| Vhc | MISS E K GREEN | EURION JASPER |
| Mid Limit Dog (10 Entries, 0 Abs) | | |
| 1st | MRS J A & MR S WOODHAMS | TOBERMYN MINSTREL BOY |
| 2nd | MR M TIANI | NORTHERNSTAR THE RED DRAGON [ATC AS01495USA] |
| 3rd | MR M L & MRS P TEW | PAMICKS BELIEVE YOU CAN JW |
| Res | MRS N MACISAAC | CHANANGEL CRAZY FOR YOU |
| Vhc | MRS D & MR S JENKINS | BRYNSEIRI AFAN |
| Limit Dog (10 Entries, 0 Abs) | | |
| 1st | MRS A J GRAHAM | TAIMERE'S TWISTER ROUND NYLIRAM JW SHCM |
| 2nd | T D & J RITCHIE & J TINDAL | SLAPESTONES EROS JW |
| 3rd | MISS V & MRS J REYNOLDS | KAMUNTING CAST AWAY TO BENOVEOR JW |
| Res | MRS J HOWARTH | QUENSHA YOU'VE GOT A FRIEND AT ARKVIEW |
| Vhc | MRS R & MRS & MR DIMOND & BOUMONTE | ISLANZA GOING DUTCH OF ROXDALE |
| Open Dog (18 Entries, 1 Abs) | | |
| 1st | MR T D & MRS H L HARRISON | SH CH GLENBROWS TRADEMARK JW |
| 2nd | C & U HAVEN SORENSEN & PETTERSSON | NO/DK CH WELFORD'S NOBEL SON OF AERON NORDV-16 DKV-16 NOV-16 NORDV-15 SEV-15 [ATC AT02900SWE] |
| 3rd | MR M TIANI | CIB/CIE/IT/SMR/CRO CH FERNDEL FOOLING AROUND WW2015 |
| Res | MISS V & MRS J REYNOLDS | GLENBROWS BAND OF BROTHERS FOR BENOVEOR JW SHCM |
| Vhc | MR I & MRS D K DOUGLAS | SH CH FERNDEL JUSTIN TIME SHCM |
| Field Trial Dog (0 Entries, 0 Abs) | | |
| Special Working Gundog Dog (3 Entries, 0 Abs) | | |
| 1st | MGR J A SAMSEL | CIE/CIB/PL/ROM/ROMCL/UA/CRO/SK/MNE/MKD/ AZE/GEO/SMR/SRB/LV/FIN CH MARIUSZ S UMBRA AMABILIS WW'12'14, EUW'12 |
| 2nd | MRS G A & MR R D COOPER | FIERGEN CITY LIMITS |
| 3rd | MRS D J YATES | KAZVAL COUNTRY FILE |
| Good Citizen Dog Scheme Dog (12 Entries, 0 Abs) | | |
| 1st | B & K ATTWOOD | KYLOWEN DRYM |
| 2nd | MISS S BARKLEY | SH CH CHERRYHEATH'S MR MISCHIEF JW SHCM |
| 3rd | MRS D & MR S JENKINS | BRYNSEIRI AFAN |
| Res | MRS D MONDAY | AMBIKA SPIRIT OF ADVENTURE |
| Vhc | M GROOT | ISFRYN ON THE SPOT |
| Veteran Bitch (20 Entries, 5 Abs) | | |
| 1st | MS M THOMAS | SH CH BOWDONIA SWEET DREAMS JW |
| 2nd | A, T C & D T RITCHIE | SH CH SLAPESTONES SMOOTH JW (AI) |
| 3rd | MRS J R MR C SUTHERLAND | CH JULITA REZANELLA OF JACRANELLA |
| Res | MR T D & MRS H L HARRISON | SH CH GLENBROWS TRIBUTE TO WESLAVE JW |
| Vhc | MR S D PICK | LLON ALIS |
| Minor Puppy Bitch (1 Entries, 0 Abs) | | |
| 1st | MR S D PICK | LLON BLODYN YMENYN |
| Puppy Bitch (4 Entries, 0 Abs) | | |
| 1st | MRS S D JONES | JULITA RUMOURS AT TROSLEY |
| 2nd | MRS K LANCETT | CWMBEILI MADLEN |
| 3rd | MR M L & MRS P TEW | PAMICKS FIELD OF DREAMS |
| Res | MR M & MISS L GRAY & CROWTHER | BUCCAGRANICA TESNI |
| Junior Bitch (11 Entries, 2 Abs) | | |
| 1st | A, T C & D T RITCHIE | SARABANDE ETERNITY AT SLAPESTONES (AI) |
| 2nd | MR T D & MRS H L HARRISON | GLENBROWS LIBERTY (AI) |
| 3rd | MS P SALT | ISLANZA SKYFALL |
| Res | MR I & MRS H DAWSON | FERNDEL HEATHER DEW |
| Vhc | MRS J M WOODWARD | SARABANDE BILLIE JEAN AT HINXWOOD (AI) |
| Yearling Bitch (16 Entries, 2 Abs) | | |
| 1st | MRS J R MR C SUTHERLAND | JACRANELLA SERENADE |
| 2nd | MRS J M LUCKETT-ROYNON | SOLVA ORTLINDE |
| 3rd | MR H OWEN | TYPICA SEREN AUR |
| Res | MISS S BARKLEY | CHERRYHEATH'S MISS VELOCITY JW |
| Vhc | MRS A C LYON | MYMMSBROOK MIMOSA |
| Post Graduate Bitch (17 Entries, 2 Abs) | | |
| 1st | MRS J R MR C SUTHERLAND | JACRANELLA SYMPHONY |
| 2nd | MS T L HARMSEN | AMERICANIZED DES VAURIENNES LUX J CH, BNLX JW'15 [ATC AU00605NLD] |
| 3rd | MR D J, MRS S A, MR M L & MRS P LE MAITRE & TEW | PAMICKS SOMETHING ROYAL AT VANNELMEAD |
| Res | MRS S C BACKHOUSE | GLENBROWS TRUTH ABOUT AINDREA |
| Vhc | MRS J & MRS J REVILL & TAYLOR | JULITA ROKAHLUA JW |
| Mid Limit Bitch (11 Entries, 1 Abs) | | |
| 1st | MS M THOMAS | BOWDONIA ANASTASIA JW |
| 2nd | MR T D & MRS H L HARRISON | GLENBROWS MEMOIR |
| 3rd | MR & MRS C G TAIN | TAIMERE'S TWO STEP |
| Res | MRS J, MISS F & MISS Z JACKSON | BENTON PILLOW TALK AT ARDINIA (IMP FIN) JW |
| Vhc | MS J FROST | BUSHWACKER SOMETHING ABOUT MARY |
| Limit Bitch (10 Entries, 1 Abs) | | |
| 1st | MRS K LANCETT | COEDYBRAIN NIA AT CWMBEILI |
| 2nd | MRS C MADELEY | BARHI FLAMING STAR AT MAYTAG |
| 3rd | MS M & MISS H THOMAS & UPTON | BOWDONIA SERAPHINA JW SHCM |
| Res | MRS J A R REVILL | JULITA RINATASHA JW SHCM |
| Vhc | MISS V ELLIS | GLENBROWS FASCINATION WITH SHANNARA |
| Open Bitch (17 Entries, 1 Abs) | | |
| 1st | MS M THOMAS | SH CH BOWDONIA MOMENT TO SHINE |
| 2nd | MR & MRS C G TAIN | SH CH TAIMERE'S TAKES THE BISCUIT JW |
| 3rd | MISS TULLY | NED CH BUSHWACKER GREGORY'S GIRL AT HIGHCLARE |
| Res | MR S D PICK | SH CH LLON LILI BENGAM |
| Vhc | MRS H LEARY | SH CH MENSTONIA MINTY OF HASLEMOUNT JW |
| Field Trial Bitch (1 Entries, 0 Abs) | | |
| 1st | MRS A C LYON | BUSHWACKER HOTSPOT OF MYMMSBROOK |
| Special Working Gundog Bitch (0 Entries, 0 Abs) | | |
| Good Citizen Dog Scheme Bitch (8 Entries, 1 Abs) | | |
| 1st | MRS J R MR C SUTHERLAND | JACRANELLA SONATA |
| 2nd | B & K ATTWOOD | MOORASH LADY YGRAINE OF KYLOWEN |
| 3rd | MS L, MR M & MR G GRAHAM & DENWOOD | SLAPESTONES HEART (AI) |
| Res | MR W & MS A MOLE & KNOX | TAMMANO CRAWHALL AT EDINCRAW |
| VHC | MR & MRS C RIDGE | STAGARTH NOW I'M HERE AT SAANU |
CRUFTS 2016
Judge(s): MRS J A R REVILL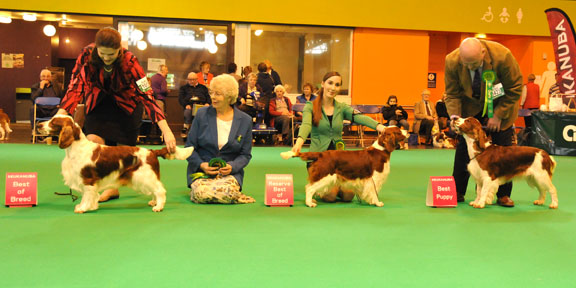 | | | |
| --- | --- | --- |
| DCC & BOB | Mr Sorensen & Pettersson | Usch/Seu(U)Ch/Dkchu/Noch Welford's Jesmond Waterfall Nov-14 Nordv-14 Nordjv-12 Nojv-12 Hej [Atc As01899swe] |
| RDCC | Miss J L & Mr P R Cocking & Barnaby | Bushwacker Captain Courageous At Ruskinite Shcm |
| BCC | Ms J Frost | Bushwacker Hot Gossip |
| RBCC | Mr A, Mrs T C & Miss D T Ritchie | Slapestones Smooth Jw (Ai) |
| Best Puppy | Mr T D & Mrs H L Harrison | Glenbrows Picture Me Now |
| | | |
| --- | --- | --- |
| Veteran Dog (18 Entries, 6 Abs) | | |
| 1st | Mrs B Hepworth | Glenbrows Paper Dragon At Kamunting |
| 2nd | Mr M L & Mrs P Tew | Pamicks Dazzling Boy Jw Shcm |
| 3rd | Mr R J & Mrs J A Murray | Slapestones Mars At Priestbeck |
| Res | Mr R E & Mrs S A Wright | Amblelight Alioth |
| Vhc | Mr D & Mrs A P Evans | Coedybrain Ryan Ar Nantlle |
| Minor Puppy Dog (0 Entries) | | |
| Puppy Dog (9 Entries, 1 Abs) | | |
| 1st | Mr T D & Mrs H L Harrison | Glenbrows Picture Me Now |
| 2nd | Mrs J R & Mr C Sutherland | Jacranella Solo |
| 3rd | Mr A & Mrs S Tubb | Slapestones Tidal Wave For Alsutu |
| Res | Mr A V & Mrs J M Rees | Typica Flash Harry |
| Vhc | Mr A, Mrs J & Miss M Neilson | Benoveor Rumour Has It |
| Junior Dog (12 Entries, 1 Abs) | | |
| 1st | Mrs A J Graham | Taimere's Twister Round Nyliram Jw |
| 2nd | Mrs S Blackford | Amblelight Galatea |
| 3rd | Mrs A & Mrs M Caldwell & Mcdowell | Bowdonia Only The Brave For Cerysan |
| Res | Mrs D Monday | Ambika Spirit Of Adventure |
| Vhc | Mrs H & Mr A Brown | Bowdonia Ozzie |
| Yearling Dog (11 Entries, 2 Abs) | | |
| 1st | Miss V & Mrs J Reynolds | Kamunting Cast Away To Benoveor Jw |
| 2nd | Mr M Tiani | Northernstar The Red Dragon [Atc As01495usa] |
| 3rd | Mrs D J & Miss H K H Bonser & Hadfied | Helgen De Treville |
| Res | Mr T J Englefield | Kamunting Porthos |
| Vhc | Mr D P & Miss L G Ward & Thomas | Redfirth Piece Of Cake |
| Post Graduate Dog (20 Entries, 1 Abs) | | |
| 1st | Mr & Mrs P Johnstone | Glenbrows Paper Money For Gilpeta Jw |
| 2nd | Mrs N Macisaac | Chanangel Crazy For You |
| 3rd | Mr I & Mrs H Dawson | Ferndel Fool Hardy |
| Res | Mrs B R Gills | Stagarth Don't Stop Me Now At Brenros |
| Vhc | Ms P Salt | Islanza Lookin For Spot (Ai) |
| Limit Dog (14 Entries, 1 Abs) | | |
| 1st | Mr R J & Mrs J A Murray | Lyndfil Simba From Priestbeck |
| 2nd | Mrs F J Flockhart | Calgeo's King Of The Forest |
| 3rd | Mr T D & Mrs H L Harrison | Glenbrows Trademark Jw |
| Res | Miss G Philipson | Menstonia Marksman Shcm |
| Vhc | Mrs M L & Miss A L Place | Slapestones Sinatra At Aarminias Jw Shcm |
| Open Dog (17 Entries, 1 Abs) | | |
| 1st | Mr Sorensen & Pettersson | Usch/Seu(U)Ch/Dkchu/Noch Welford's Jesmond Waterfall Nov-14 Nordv-14 Nordjv-12 Nojv-12 Hej [Atc As01899swe] |
| 2nd | Miss J L & Mr P R Cocking & Barnaby | Bushwacker Captain Courageous At Ruskinite Shcm |
| 3rd | Mr J S Thirlwell | Sh Ch Ferndel Aeron Magregor |
| Res | Mr I & Mrs D K Douglas | Sh Ch Ferndel Justin Time Shcm |
| Vhc | Mrs A & Mrs M Caldwell & Mcdowell | Sh Ch Gemill Back To The Future For Cerysan Jw Shcm |
| Field Trial Dog (0 Entries) | | |
| Special Working Dog (2 Entries, 0 Abs) | | |
| 1st | Mgr J A Samsel | Cie/Cib/Pl/Rom/Romcl/Ua/Cro /Sk/Mne/Mkd/Aze/Geo/Smr/Srb /Lv/Fin Mariusz S Umbra Amabilis Ww'12'14, Euw'12 |
| 2nd | Mrs G A & Mr R D Cooper | Fiergen City Limits |
| Good Citizen Dog Scheme Dog (11 Entries, 0 Abs) | | |
| 1st | Miss S Barkley | Sh Ch Cherryheath's Mr Mischief Jw Shcm |
| 2nd | Mrs A Finlay | Cerysan Robert Roy |
| | | |
| 3rd | Mrs A & Mrs M Caldwell & Mcdowell | Bowdonia Only The Brave For Cerysan |
| Res | Mr R E & Mrs S A Wright | Amblelight Alioth |
| Vhc | Mrs D J & Miss H K H Bonser & Hadfied | Helgen De Treville |
| Veteran Bitch (17 Entries, 6 Abs) | | |
| 1st | Ms M Thomas | Sh Ch Bowdonia Sweet Dreams Jw |
| 2nd | Ms J Frost | Sh Ch Bushwacker Atomic Kitten |
| 3rd | Mr A & Mrs T C Ritchie | Sh Ch Hillrobin Galaxy At Slapestones Jw |
| Res | Mrs K Abbott | Norlington Nectar Jw Shcm |
| Vhc | Mrs S D Jones | Pennylock Sioned At Trosley |
| Minor Puppy Bitch (2 Entries, 0 Abs) | | |
| 1st | Miss L & Miss N Tyler & Shiels | Tammano Knights Pearl |
| 2nd | Mrs N A Hodgson | Fitzrovia Liberty Belle |
| Puppy Bitch (3 Entries, 0 Abs) | | |
| 1st | Miss S Barkley | Cherryheath's Miss Velocity |
| 2nd | Mrs K W Lampersberger | Benoveor Field Of Dreams To Kurzeja |
| 3rd | Mrs J R & Mr C Sutherland | Jacranella Symphony |
| Junior Bitch (11 Entries, 2 Abs) | | |
| 1st | Mrs J & Miss F Jackson | Benton Pillow Talk At Ardinia (Imp Fin) |
| 2nd | Ms M Thomas | Bowdonia Anastasia |
| 3rd | Mr R J & Mrs C S Perkins | Taimere's Tickles My Fancy Of Brent |
| Res | Mrs J R & Mr C Sutherland | Jacranella Serenade |
| Vhc | Mrs B & Mr K Attwood | Kylowen Demelza |
| Yearling Bitch (12 Entries, 2 Abs) | | |
| 1st | Mrs A J Graham | Nyliram Miss Joules Jw |
| 2nd | Ms M & Miss H Thomas & Upton | Bowdonia Seraphina |
| 3rd | Mrs D, Mrs R & Ms P Boumonte, Dimond & Salt | Islanza Scarlett O'hara |
| Res | Mrs C & Mr P Halpin | Redfrith Gift Wrapped For Moonlone |
| Vhc | Ms J Frost | Bushwacker Something About Mary |
| Post Graduate Bitch (22 Entries, 3 Abs) | | |
| 1st | Mr T D & Mrs H L Harrison | Glenbrows Memoir |
| 2nd | Mrs M L & Miss A L Place | Tammano Cadell At Aarminias |
| 3rd | Mr & Mrs D J Roland-Shrubb | Ypagneul Coco At Bichere |
| Res | Mrs A Caldwell | Bowdonia Bellissima For Cerysan |
| Vhc | Mrs J Charles | Stagarth A Kind Of Magic |
| Limit Bitch (15 Entries, 3 Abs) | | |
| 1st | Ms J Frost | Bushwacker Hot Gossip |
| 2nd | Mr A & Mrs M Hobbs | Quentof's Royal Tomatin |
| 3rd | Mr A D & Mr D I Morgan & Schofield | Ferndel Silhouette Of Cwsscwn Jw |
| Res | Mrs B Frost | Cochnaid's Cartier Diamond |
| Vhc | Mrs A H Morgan | Garbeth Midsummer Mayhem At Quensha |
| Open Bitch (13 Entries, 1 Abs) | | |
| 1st | Mr A, Mrs T C & Miss D T Ritchie | Slapestones Smooth Jw (Ai) |
| 2nd | Mr A D & Mr D I Morgan & Schofield | Sh Ch Ferndel Butterkist Cwsscwn Jw |
| 3rd | Mr A & Mrs T C Ritchie | Sh Ch Slapestones Mouna Jw |
| Res | Miss Tully | Bushwacker Gregory's Girl At Highclare |
| Vhc | Mr S D Pick | Sh Ch Llon Lili Bengam |
| Field Trial Bitch (2 Entries, 0 Abs) | | |
| 1st | Mrs A C Lyon | Bushwacker Hotspot Of Mymmsbrook |
| 2nd | Mr I & Mrs S E Dixon | Bodlon Star Attraction By Bushwacker |
| Special Working Bitch (2 Entries, 0 Abs) | | |
| 1st | T Jensen | Intch/Intch(U)/Nordch/Dkch/ Noch/Sech(U)/Vdh Ch Amica Adara's Beatrice Ww-15 Dkkv15 [Atc As02117dnk] |
| 2nd | Mr I & Mrs S E Dixon | Bodlon Star Attraction By Bushwacker |
| Good Citizen Dog Scheme Bitch (12 Entries, 1 Abs) | | |
| 1st | Ms L, Mr M & Mr G Graham & Denwood | Slapestones Heart (Ai) |
| 2nd | Mrs K Abbott | Norlington Nectar Jw Shcm |
| 3rd | Mrs J & Ms M Woodward & Thomas | Bowdonia Time To Dream |
| Res | Mrs C & Mr J Greenway | Ferndel Scarlet |
| Vhc | Mr & Mrs C Ridge | Stagarth Now I'm Here At Saanu |
CRUFTS 2015
Judge(s): MRS H LEARY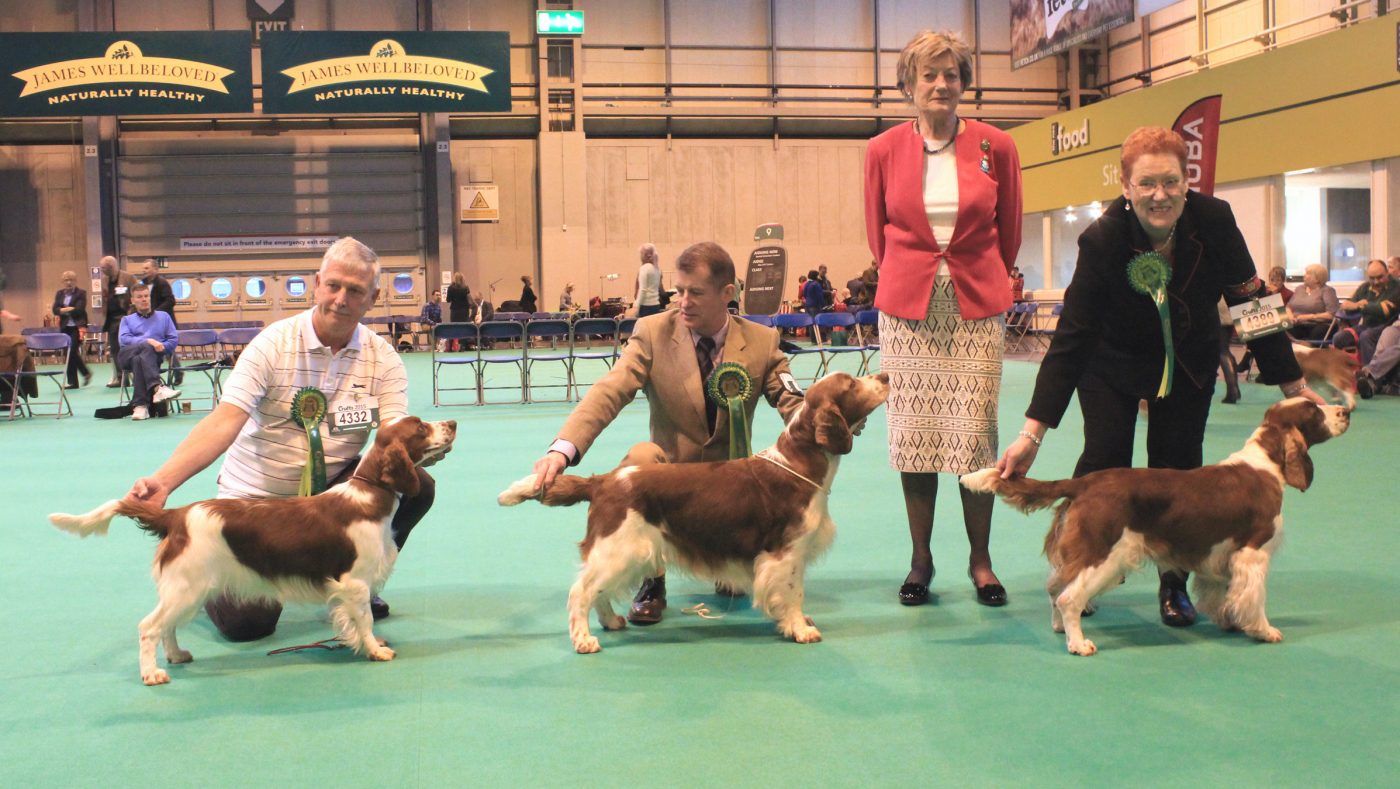 Judges Comments:
Thank you for bringing your beautiful dogs under me.  I was very impressed with the high quality of preparation and presentation throughout all of the classes.  It was a joy to go over your dogs.
In each class, my initial impression or gut feeling was the one which stayed with me throughout most of the judging. My eyes told me one thing, and later the tactile approach in most cases confirmed my visual assessment in my winning dogs.  As we know -"seeing"- is, not always believing.  My hands often gave me more information than my eyes.  The winners today possessed, if not all, most of the requirements I was looking for, and the "total package" was pleasing to my eye – i.e. they were of excellent breed type. Minor faults were forgiven.  I was not looking for perfection but a dog with an overall balanced body, and an outline typical of the breed, a full typical head and distinctive in its gender.
I wanted to see the various parts of the dog functioning well together to give an overall impression of balance, strength and stamina.  I was looking for a strong, sound healthy dog which could function in the field.
However, there were a few points of concern:
There were several bitches, who were, as big as a dog. Be mindful of your breeding programmes as size can take years to correct.
A few dogs were upright in front and as a result, when stacked, were unable to place their front legs under the body, which meant, on moving, they could not fully extend in front and this had an effect on the rear quarters by trying to compensate.
At the risk of repeating myself throughout the classes, I have restricted the comments, largely to the reasons why I placed the winners 1 – 3.  At the end of the day it is one judges opinion at one show.  Overall, the breed is in safe hands.  There is an abundance of very good dogs.  In some of the larger classes I could have given out another five cards.
| | | |
| --- | --- | --- |
| DCC & BOB: | Thirlwell | Sh Ch Ferndel Aeron Magregor |
| Res DCC: | Cocking & Barnaby | Bushwacker Captain Courageous At Ruskinite ShCM |
| BCC: | Morgan & Schofield | Sh Ch Ferndel Butterkist Cwsscwn JW |
| Res BCC: | Pick | Llon Lili Bengam |
| BP: | Graham | Nyliram Miss Joules |
| | | |
| --- | --- | --- |
| | | |
| Veteran Dog | | (13 Entries, 2 Absent) |
| 1st | Hepworth | Glenbrows Paper Dragon At Kamunting |
| 2nd | Connolly | Menstonia Mahler At Benmorbry |
| 3rd | Masson | Peakdale Iestyn Ap Dafydd Manmoel |
| Res | Murray | Slapestones Mars At Priestbeck |
| VHC | Andersson | C I E/NORDUCH/SEU(U)CH/NUCH/DKUCH Freckles Prince Of Thieves [ATC AR01850SWE] |
| Minor Puppy Dog | | (1 Entries, 0 Absent) |
| 1st | Reynolds | Kamunting Cast Away To Benoveor |
| Puppy Dog | | (5 Entries, 0 Absent) |
| 1st | Luckett-Roynon | Solva Captain Vere |
| 2nd | Reynolds | Kamunting Cast Away To Benoveor |
| 3rd | Green | Eurion Jasper |
| Res | Bonser & Hadfield | Helgen De Treville |
| VHC | Howarth | Quensha I Write The Songs For Arkview |
| Junior Dog | | (16 Entries, 1 Absent) |
| 1st | Harrison | Glenbrows Trademark |
| 2nd | Hebbel | Mynydd's Afon Tarennig |
| 3rd | Tew | Pamicks Believe You Can |
| Res | Frost | Bushwacker Bruce Almighty |
| VHC | Salt | Islanza Double Dutch |
| Yearling Dog | | (10 Entries, 0 Absent) – A challenging class to judge with the dogs being at various levels of maturity. The winner had the edge by being more "put together" in breed points & his movement was more precise. |
| 1st | Tew | Pamicks Believe You Can |
| 2nd | Tiani | Ferndel Fooling Around |
| 3rd | Pick & Chisholm | Llon Ddraig Goch |
| Res | Jackson | Tigerrock Stud Muffin |
| VHC | Worth | Sarabande Perfect Storm (Ai) |
| Post Graduate Dog | | (15 Entries, 0 Absent) |
| 1st | Murray | Lyndfil Simba From Priestbeck |
| 2nd | Ritchie & Tindal | Slapestones Eros JW |
| 3rd | Janes | Coedybrain Morgan |
| Res | Kemp | Julita Rifleman |
| VHC | Nohynkova | Fellow Aspero Minebea |
| Limit Dog | | (19 Entries, 1 Absent) |
| 1st | Cocking & Barnaby | Bushwacker Captain Courageous At Ruskinite ShCM |
| 2nd | Butler-Holley & Holley | Shandwick Promise |
| 3rd | Salt | Islanza Spot That Duck (Ai) |
| Res | Graham & Denwood | Slapestones Newman At Lyndfil |
| VHC | Evans | Typica Red Kite |
| Open Dog | | (20 Entries, 1 Absent) – Another difficult class to judge with many good dogs going cardless. I liked some points in one dog & other points in another. I pondered for some time before choosing the line up. So much quality in this class. |
| 1st | Thirlwell | Sh Ch Ferndel Aeron Magregor |
| 2nd | Harmsen | Wild Chase Des Vauriennes JW'13 [ATC AQ01712NLD] |
| 3rd | Andersson | C I E/NORDUCH/SEU(U)CH/NUCH/DKUCH Hot Spices Son Of A Rebel [ATC AR01849SWE] |
| Res | Douglas | Ferndel Justin Time |
| VHC | Salt | Int/Lux/Bel Ch Islanza Oh Boy |
| Field Trial Dog | | (0 Entries, 0 Absent) |
| Special Working Gundog Dog | | (2 Entries, 0 Absent) |
| 1st | Samsel | CIE/CIB/PL/ROM/ROMCL/UA/CRO/SK/MNE/MKD/AZE/GEO/SMR/SRB/LV/FIN Mariusz S Umbra Amabilis WW'12'14, EUW'12 [ATC AP01207POL] |
| 2nd | Ducourtioux | Red And White's Quatif Of Sawel |
| Good Citizen Dog Scheme Dog | | (11 Entries, 1 Absent) |
| 1st | Jackson | Slapestones Atlantic At Hawkroyd (Ai) |
| 2nd | Clarke | Jeavart Different Strokes By Tigerrock JW ShCM |
| 3rd | Attwood | Kylowen Gerrans ShCM |
| Res | Yacoub | Ferndel Amren For Laithmoor |
| VHC | Cocking & Barnaby | Bushwacker Thriller |
| Veteran Bitch | | (15 Entries, 4 Absent) |
| 1st | Ritchie | Sh Ch Hillrobin Galaxy At Slapestones JW |
| 2nd | Revill | Julita Raskari |
| 3rd | Attwood | Kylowen Gyllyngvase |
| Res | Caffrey & Dods | Sh Ch Gellyburn Damselfly JW ShCM |
| VHC | Michie | Tobermyn Dawn Chorus |
| Minor Puppy Bitch | | (1 Entries, 0 Absent) |
| 1st | Graham | Nyliram Miss Joules |
| Puppy Bitch | | (6 Entries, 0 Absent) |
| 1st | Graham | Nyliram Miss Joules |
| 2nd | Gately & Jackson | Ferndel Carolina With Russethill |
| 3rd | Harmsen | Shooting Star Des Vauriennes [ATC AR01295NLD] |
| Res | Luckett-Roynon | Solva Vespina |
| VHC | Hughes | Bronant Cell Cwtch Cadi |
| Junior Bitch | | (16 Entries, 4 Absent) |
| 1st | Woods | Haltonian Twelfth Night |
| 2nd | Place | Tammano Cadell At Aarminias |
| 3rd | Mole | Tammano Crawhall |
| Res | Morgan & Schofield | Ferndel Silhouette Of Cwsscwn |
| VHC | Ridge | Stagarth Now I'm Here At Saanu |
| Yearling Bitch | | (13 Entries, 1 Absent) |
| 1st | Pick | Llon Lili Bengam |
| 2nd | Tully | Bushwacker Gregory's Girl At Highclare |
| 3rd | Caldwell | Bowdonia Bellissima For Cerysan |
| Res | Thirlwell | Ferndel Folly |
| VHC | Harrison | Glenbrows Memoir |
| Post Graduate Bitch | | (12 Entries, 0 Absent) |
| 1st | Hobbs | Quentof's Royal Tomatin |
| 2nd | Graham & Denwood | Lyndfil Zazu JW |
| 3rd | Revill & Taylor | Julita Rokahlua JW |
| Res | Roland-Shrubb | Ypagneul Coco At Bichere |
| VHC | Evans | Yberfa Lili Bychan |
| Limit Bitch | | (18 Entries, 4 Absent) |
| 1st | Jones | Pennylock Sioned At Trosley |
| 2nd | Revill | Julita Rinatasha JW |
| 3rd | Lemin | Bonvis Fern |
| Res | Harrison & Taylor | Glenbrows Poetry JW |
| VHC | Woods | Ferndel Fasination |
| Open Bitch | | (13 Entries, 1 Absent) – A fantastic class, so full of quality girls. I did consider each exhibit carefully in arriving at my decisions for the line up.  It was hard work separating them, as there were many others I would have also liked to have given cards to. |
| 1st | Morgan & Schofield | Sh Ch Ferndel Butterkist Cwsscwn JW |
| 2nd | Ritchie | Sh Ch Slapestones Mouna JW |
| 3rd | Caffrey & Dods | Gellyburn Gaelic Damsel At Balcraig |
| Res | Thomas | Sh Ch Bowdonia Moment To Shine |
| VHC | Pick | Llon Alis |
| Field Trial Bitch | | (1 Entries, 0 Absent) |
| 1st | Dixon | Bodlon Star Attraction By Bushwacker |
| Special Working Gundog Bitch | | (4 Entries, 2 Absent) |
| 1st | Dixon | Bodlon Star Attraction By Bushwacker |
| 2nd | Stevenson | Hillpark Sunset Gold Over Blythway |
| Good Citizen Dog Scheme Bitch | | (11 Entries, 2 Absent) |
| 1st | Abbott | Norlington Nectar JW ShCM |
| 2nd | Revill & Popkin | Julita Renya JW |
| 3rd | Rees | Typica Country Maid |
| Res | Mole | Tammano Crawhall |
| VHC | Clarke & Casey | Tigerrock Wild Is The Wind |
CRUFTS 2014
Judge(s): MRS L A TAIN
No image available for principle winners
| | | |
| --- | --- | --- |
| DCC & BOB: | Graham's | Sh Ch/Svk Ch Pennylock Rhys over Nyliram JW ShCM |
| Res DCC: | Thirlwell's | Sh Ch Ferndel Aeron Magregor |
| BCC: | Worth's | Sh Ch Shandwick Premier Rose at Sarabande JW ShCM |
| Res BCC: | Morgan & Schofields' | Sh Ch Ferndel Butterkist Cwsscwn JW |
| BP: | Thirlwell's | Ferndel Folly |
| | | |
| --- | --- | --- |
| DOG CLASSES | | |
| Veteran Dog (8 entries, 1 absent) | | |
| 1st: | Worths' | Sh Ch Shandwick Kristoffer at Sarabande ShCM |
| 2nd: | Jacksons' | Menstonia Miami Vice JW |
| 3rd: | Baguley & Crowthers' | Tannamoor Hallmark at Lligwy ShCM |
| Res: | Wren's | Gwynmarren Winter Storm JW |
| VHC: | Ridges' | Saanu Northern Lights |
| Special Puppy Dog (14 entries) | | |
| 1st: | Botts' | Ferndel Fools Gold |
| 2nd: | Duncans' | Redfrith Jack Of Diamonds |
| 3rd: | Salt's | Islanza Spot That Duck |
| Res: | Worth's | Sarabande Rio Grande |
| VHC: | Clarke & Jacksons' | Tigerrock Stud Muffin |
| Special Junior Dog (10 entries, 3 absent) | | |
| 1st: | Bird's | Helgen Goldfinger |
| 2nd: | Graham's | Nyliram Billy No Mates |
| 3rd: | Murrays' | Lyndfil Simba from Priestbeck |
| Res: | Harmsen's | Wild Chase Des Vauriennes |
| VHC: | Philipson's | Menstonia Marksman |
| Yearling Dog (12 entries, 1 absent) | | |
| 1st: | Graham's | Furness Way From Minebea to Nyliram |
| 2nd: | Butler-Holley & Holleys' | Shandwick Promise |
| 3rd: | Harrisons' | Glenbrows Rainman JW |
| Res: | Philipson's | Menstonia Marksman |
| VHC: | Bateman's | Cormallen Gold |
| Post Graduate Dog (11 entries, 2 absent) | | |
| 1st: | Hassell's | Chanangel Nightwatchman at Kytreveglos ShCM |
| 2nd: | Ritchie & Tindalls' | Slapestones Eros JW |
| 3rd: | Kemps' | Julita Rifleman |
| Res: | Places' | Slapestones Sinatra at Aarminias JW |
| VHC: | Lemin's | Bonvis Fire N'Ice |
| Limit Dog (21 entries) | | |
| 1st: | Tolladays' | Ferndel Comander of Bethersden |
| 2nd: | Douglas' | Ferndel Justin Time |
| 3rd: | Graham & Denwoods' | Slapestones Newman at Lyndfil |
| Res: | Dias-Ballantyne & Ballantynes' | Redfrith Hot Fudge |
| VHC: | Reynolds' | Glenbrows Band Of Brothers for Benoveor JW ShCM |
| Open Dog (13 entries) | | |
| 1st: | Thirlwell's | Sh Ch Ferndel Aeron Magregor |
| 2nd: | Graham's | Sh Ch Nyliram Blazing Star JW ShCM |
| 3rd: | Samsel's | Multi-Ch Mariusz S Umbra Amabilis |
| Res: | Barkley's | Cherryheath's Mr Mischief JW ShCM |
| VHC: | Caldwell & McDowells' | Sh Ch Gemill Back To The Future for Cerysan JW ShCM |
| Field Trial Dog (0 entries) | | |
| Special Working Gundog Dog (1 entry) | | |
| 1st: | Samsel's | Multi-Ch Mariusz S Umbra Amabilis |
| Good Citizen Dog Scheme Dog (12 entries, 1 absent) | | |
| 1st: | Graham's | Sh Ch/Svk Ch Pennylock Rhys over Nyliram JW ShCM |
| 2nd: | Nicolls' | Amblelight Suhail at Antreth |
| 3rd: | Philipson's | Menstonia Marksman |
| Res: | Bateman's | Cormallen Gold |
| VHC: | Places' | Slapestones Sinatra at Aarminias JW |
| Bitch CLASSES | | |
| Veteran Bitch (17 entries, 4 absent) | | |
| 1st: | Caffrey & Dods' | Sh Ch Gellyburn Damselfly JW ShCM |
| 2nd: | Waltons' | Sh Ch Hillpark Royal Gold |
| 3rd: | Caldwell's | Cerysan Alexa |
| Res: | Attwoods' | Kylowen Gyllyngvase |
| VHC: | Hassell's | Crimson Angel |
| Special Puppy Bitch (10 entries) | | |
| 1st: | Thirlwell's | Ferndel Folly |
| 2nd: | Salt's | Islanza Hit The Spot |
| 3rd: | Worth's | Sarabande River Breeze |
| Res: | Michie's | Tobermyn Kindred Spirit |
| VHC: | Pick's | Llon Lili Bengam |
| Special Junior Bitch (6 entries, 1 absent) | | |
| 1st: | Graham & Denwoods' | Lyndfil Zazu |
| 2nd: | Leary's | Menstonia Minty of Haslemount |
| 3rd: | Boumonte & Dimonds' | Roxdale Final Romance |
| Res: | Jackson's | Catjack Dearieme |
| VHC: | Hobbs' | Quentof's Royal Tomatin |
| Yearling Bitch (15 entries, 1 absent) | | |
| 1st: | Frost's | Cochnaid's Cartier Diamond |
| 2nd: | Leary's | Menstonia Minty of Haslemount |
| 3rd: | Ritchies' | Slapestones Mouna JW |
| Res: | Revill & Taylors' | Julita Rokahlua |
| VHC: | Bateman's | Cormallen Jade |
| Post Graduate Bitch (24 entries, 7 absent) | | |
| 1st: | Gately & Jacksons' | Russethill Royal Jubilee JW |
| 2nd: | Lemin's | Bonvis Fern |
| 3rd: | Frost's | Cochnaid's Cartier Diamond |
| Res: | Tews' | Pamicks Tilly Trotting JW |
| VHC: | Frost's | Bushwacker Hot Gossip |
| Limit Bitch (14 entries, 2 absent) | | |
| 1st: | Pick's | Llon Alis |
| 2nd: | Arvidsson's | Freckles Royal Combier |
| 3rd: | Wetsteyn's | Ayla Our Loyal Welsh |
| Res: | Peet's | Kimdale Dotsanddashes from Highclare |
| VHC: | Caffrey & Dods' | Gellyburn Gaelic Damsel at Balcraig |
| Open Bitch (12 entries, 3 absent) | | |
| 1st: | Worth's | Sh Ch Shandwick Premier Rose at Sarabande JW ShCM |
| 2nd: | Morgan & Schofields' | Sh Ch Ferndel Butterkist Cwsscwn JW |
| 3rd: | Duncans' | Ir Sh Ch Redfrith Betty Boop |
| Res: | Sutherlands' | Julita Rezanella of Jacranella |
| VHC: | Bateman's | Sp/Gib Ch Cormallen Desirable |
| Field Trial Bitch (1 entries, 1 absent) | | |
| Special Working Gundog Bitch (2 entries, 1 absent) | | |
| 1st: | Jensen's | Int Ch/Nord Ch/Dk Ch Noch Adara |
| Good Citizen Dog Scheme Bitch (12 entries, 2 absent) | | |
| 1st: | Abbott's | Norlington Nectar JW ShCM |
| 2nd: | Barkley's | Cherryheath's Miss Chief JW |
| 3rd: | Woodward's | Bowdonia Chasing Dreams |
| Res: | Revill & Popkins' | Julita Renya JW |
| VHC: | Attwoods' | Moorash Lady Ygraine of Kylowen |
CRUFTS 2013
Judge(s): MRS K M GORMAN
No image available for principle winners
| | | |
| --- | --- | --- |
| DCC & BOB: | Harrisons' | Glenbrows Timelord JW |
| Res DCC: | Evans' | Typica Kingfisher |
| BCC: | Thomas' | Sh Ch Bowdonia Sweet Dreams JW |
| Res BCC: | Frost's | Sh Ch Highclare Scrabble of Bushwacker |
| BP: | Ritchie & Tindals' | Slapestones Eros |
| | | |
| --- | --- | --- |
| DOG CLASSES | | |
| Veteran Dog (9 entries, 1 absent) | | |
| 1st: | Jacksons' | Menstonia Miami Vice JW |
| 2nd: | Davis' | Julita Ranger ShCM |
| 3rd: | Smith's | Amblelight Mercury |
| Res: | Morphy & Jones' | Sh Ch Sherdrew Echo Point |
| VHC: | Baguley & Crowthers' | Tannamoor Hallmark at Lligwy ShCM |
| Special Puppy Dog (8 entries) | | |
| 1st: | Ritchie & Tindals' | Slapestones Eros |
| 2nd: | Harrisons' | Red Robyn V Raamvliet (Imp Nld) |
| 3rd: | Isherwood's | Amblelight Trapezium Star |
| Res: | Starkey's | Glenbrows Falcon at Mynthurst |
| VHC: | Rees' | Typica Red Kite |
| Special Junior Dog (6 entries) | | |
| 1st: | Douglas' | Ferndel Justin Time |
| 2nd: | Flockhart's | Calgeo's King Of The Forest |
| 3rd: | Lemin's | Bonvis Fire n'Ice |
| Res: | Parker's | Morning Harvest |
| VHC: | Luckett-Roynon's | Solva Giorgio |
| Yearling Dog (13 entries, 1 absent) | | |
| 1st: | Barkley's | Cherryheath's Mr Mischief JW |
| 2nd: | Places' | Slapestones Sinatra at Aarminias |
| 3rd: | Tyler & Shiels' | Eiriandylis Jems Jacob |
| Res: | Graham & Denwoods' | Slapestones Newman at Lyndfil |
| VHC: | Chandler's | Chanangel Sticky Wicket |
| Post Graduate Dog (18 entries, 2 absent) | | |
| 1st: | Evans' | Typica Kingfisher |
| 2nd: | Backhouse's | Aindrea Lotofunwioutlafin JW |
| 3rd: | Allen's | Pacey Acer at Pauletaire |
| Res: | Kemps' | Julita Rifleman |
| VHC: | Salt's | Islanza On Top |
| Limit Dog (18 entries, 1 absent) | | |
| 1st: | Caldwell & McDowells' | Gemill Back To The Future for Cerysan JW |
| 2nd: | Tews' | Pamicks Dazzling Boy JW |
| 3rd: | Salt's | Islanza Oh Boy |
| Res: | Tyler & Shiels' | Eiriandylis Jemsjasper ShCM |
| VHC: | Finlay's | Cerysan Robert Roy |
| Open Dog (14 entries, 2 absent) | | |
| 1st: | Harrisons' | Glenbrows Timelord JW |
| 2nd: | Graham's | Sh Ch/Svk Ch Pennylock Rhys over Nyliram JW ShCM |
| 3rd: | Samsel's | Int/Pl/Rom Cl/UA/CRO Ch Mariusz s Umbra Amabilis |
| Res: | Murrays' | Slapestones Mars at Priestbeck |
| VHC: | Connollys' | Menstonia Mahler at Benmorbry |
| Field Trial Dog (1 entry, 1 absent) | | |
| Special Working Gundog Dog (1 entry) | | |
| 1st: | Strahlendorffs' | Fi/N Ch Twitters Bowl Of Beauty |
| Good Citizen Dog Scheme Dog (9 entries) | | |
| 1st: | Finlay's | Cerysan Robert Roy |
| 2nd: | Morphy & Jones' | Sh Ch Sherdrew Echo Point |
| 3rd: | Evans' | Bwgan Llwyd Ar Nantlle |
| Res: | Nicolls' | Amblelight Suhail |
| BITCH CLASSES | | |
| Veteran Bitch (9 entries, 2 absent) | | |
| 1st: | Frost's | Sh Ch Highclare Scrabble of Bushwacker |
| 2nd: | Revill's | Julita Raskari |
| 3rd: | Clarke's | Tigerrock Eye Of The Tiger ShCM |
| Res: | Boumonte & Dimonds' | Navashambell Mountain Mist of Roxdale |
| VHC: | Seningtons' | Cerysan Athena at Lingbank |
| Special Puppy Bitch (16 entries) | | |
| 1st: | Woodward & Thomas' | Bowdonia Time To Dream |
| 2nd: | Ritchie's | Slapestones Mouna |
| 3rd: | Harrisons' | Glenbrows Future Romance JW |
| Res: | Simmons' | Bevan Our Loyal Welsh for Glynell |
| VHC: | Tains' | Taimere's Tell Tale |
| Special Junior Bitch (10 entries, 1 absent) | | |
| 1st: | Kemerlinckx's | Picture Perfect Des Vauriennes |
| 2nd: | Tews' | Pamicks Tilly Trotting JW |
| 3rd: | Harrisons' | Glenbrows Future Hope |
| Res: | Gately & Jacksons' | Russethill Royal Jubilee |
| VHC: | Lemins' | Bonvis Fern |
| Yearling Bitch (13 entries, 1 absent) | | |
| 1st: | Bonser-Hadfield & Hadfields' | Helgen Easter Surprise |
| 2nd: | Morgan & Schofields' | Ferndel Butterkist Cwsscwn JW |
| 3rd: | Salt's | Islanza Lady In Red |
| Res: | Cornford's | Chanangel Maiden Over Hillcotstud |
| VHC: | Harrison & Harmsens' | Glenbrows Portrait JW |
| Post Graduate Bitch (21 entries, 3 absent) | | |
| 1st: | Tains' | Taimere's Tickled Pink |
| 2nd: | Revill's | Julita Rinatasha JW |
| 3rd: | Harrisons' | Glenbrows Poetry JW |
| Res: | Starkey's | Redfrith You Know Me at Mynthurst |
| VHC: | Thomas' | Bowdonia Star Catcher JW |
| Limit Bitch (17 entries, 1 absent) | | |
| 1st: | Harrisons' | Glenbrows Beside Me JW |
| 2nd: | Masson's | Pennylock Rhian of Manmoel |
| 3rd: | Morgan's | Garbeth Midsummer Mayhem at Quensha |
| Res: | Graham's | Nyliram Sparkling Pearl JW |
| VHC: | Ritchies' | Slapestones Smooth JW |
| Open Bitch (15 entries) | | |
| 1st: | Thomas' | Sh Ch Bowdonia Sweet Dreams JW |
| 2nd: | Ritchies' | Sh Ch Hillrobin Galaxy at Slapestones JW |
| 3rd: | Williams' | Sh Ch Bushwacker Bewitched at Bodlon ShCM |
| Res: | Harrisons' | Sh Ch Glenbrows Tribute to Weslave JW |
| VHC: | Frost's | Sh Ch Bushwacker Atomic Kitten |
| Field Trial Bitch (1 entry, 1 absent) | | |
| Special Working Gundog Bitch (3 entries) | | |
| 1st: | Pouchard's | Ta Wei's Abricotine |
| 2nd: | Stevensons' | Hillpark Sunset Gold over Blythway |
| 3rd: | Whites' | Fiergen Private Dancer |
| Good Citizen Dog Scheme Bitch (14 entries, 2 absent) | | |
| 1st: | Woodward's | Bowdonia Chasing Dreams |
| 2nd: | Dixons' | Menstonia Fair Chance |
| 3rd: | Revill & Popkins' | Julita Renya JW |
| Res: | Barkley's | Cherryheath's Miss Chief JW |
| VHC: | Caldwell's | Cerysan Purely By Chance |
CRUFTS 2012
Judge(s): MRS C KNOWLES
No image available for principle winners
| | | |
| --- | --- | --- |
| DCC & BOB: | Harrisons' | Glenbrows Timelord JW |
| Res DCC: | Craigs' | Mr Charlie Boy |
| BCC: | Ritchies' | Sh Ch Hillrobin Galaxy at Slapestones JW |
| Res BCC: | Morgan's | Garbeth Midsummer Mayhem at Quensha |
| BP: | Caldwell & McDowell's | Gemill Back To The Future for Cerysan |
| | | |
| --- | --- | --- |
| DOG CLASSES | | |
| Veteran Dog (10 entries, 2 absent) | | |
| 1st: | Ritchie & Bardgetts' | Sh Ch Slapestones Rysauryn JW |
| 2nd: | Wren's | Saanu Copper Beech at Gwynmarren JW ShCM |
| 3rd: | Murrays' | Sh Ch Slapestones Twister at Priestbeck JW |
| Res: | Baguley & Crowthers' | Tannamoor Hallmark at Lligwy ShCM |
| VHC: | Johnstones' | Kazval Filatelist for Gilpeta |
| Special Puppy Dog (8 entries) | | |
| 1st: | Caldwell & McDowell's | Gemill Back To The Future for Cerysan |
| 2nd: | Tolladays' | Ferndel Comander |
| 3rd: | Tyler & Shiels' | Eiriandylis Jems Jacob |
| Res: | Places' | Slapestones Sinatra at Aarminias |
| VHC: | Bremner's | Eiriandylis Dibly |
| Special Junior Dog (7 entries, 1 absent) | | |
| 1st: | McGrath's | Taimere's Tomfoolery |
| 2nd: | Reynolds' | Glenbrows Band Of Brothers for Benoveor JW |
| 3rd: | Bremner's | Eiriandylis Dibly |
| Res: | Graham & Denwoods' | Slapestones Newman |
| VHC: | Coopers' | Fiergen City Limits |
| Yearling Dog (13 entries, 4 absent) | | |
| 1st: | Evans' | Typica Kingfisher |
| 2nd: | Harrisons' | Glenbrows Dancing Dragon |
| 3rd: | Strazvska's | Harry Potter Ivancice |
| Res: | Salt's | Islanza On Top |
| VHC: | Bruces | Martinryall Milton Hill |
| Post Graduate Dog (20 entries, 3 absent) | | |
| 1st: | Craigs' | Mr Charlie Boy |
| 2nd: | Salt's | Islanza Oh Boy |
| 3rd: | Allen's | Pacey Acer at Pauletaire |
| Res: | Tyler & Shiels' | Eiriandylis Jemsjasper |
| VHC: | Jacksons' | Slapestones Atlantic at Hawkroyd |
| Limit Dog (15 entries, 2 absent) | | |
| 1st: | Harrisons' | Glenbrows Timelord JW |
| 2nd: | Murrays' | Slapestones Mars at Priestbeck |
| 3rd: | Harvey's | Pennylock Red Baron with Mariemead |
| Res: | Smolenaers' | Mastermind From Kind Of Magic |
| VHC: | Tews' | Pamicks Dazzling Boy JW |
| Open Dog (11 entries, 2 absent) | | |
| 1st: | Graham's | Sh Ch Nyliram Blazing Star JW ShCM |
| 2nd: | Troosts' | Inma's New American Dream |
| 3rd: | Harrisons' | Sh Ch Glenbrows Picture This JW ShCM |
| Res: | Waltons' & Coffin's | Am Ch Cole Creek Hawk Eye at Hillpark |
| VHC: | Salt's | Islanza On The Ball ShCM |
| Field Trial Dog (1 entry) | | |
| 1st: | Thomas' | Springcurl Limerick (Disqualified by KC, ineligible) |
| Special Working Gundog Dog (4 entries) | | |
| 1st: | Zemanek's | Cz/Pl Ch Twigle Noor |
| 2nd: | Jones' | Pennylock Quin JW ShCM |
| 3rd: | Marc Colin's | Cs/Ib/E/Mo Ch Barry White Des Hauts de l'Espinouse |
| Res: | Thomas' | Springcurl Limerick |
| Good Citizen Dog Scheme Dog (5 entries) | | |
| 1st: | Finlay's | Cerysan Robert Roy |
| 2nd: | Cocking & Barnaby's | Bushwacker Thriller |
| 3rd: | Wren's | Gwynmarren Winter Storm JW |
| Res: | Baguley & Attwood's | Kylowen Gerrans ShCM |
| VHC: | Nicolls' | Amblelight Suhail |
| BITCH CLASSES | | |
| Veteran Bitch (13 entries, 3 absent) | | |
| 1st: | Caldwell's | Highclare Spring To Action for Cerysan |
| 2nd: | Waltons' | Hillpark Golden Legacy |
| 3rd: | Rees' | Sh Ch Coedybrain Carys at Typica JW ShCM |
| Res: | Michie's | Tobermyn Tangle |
| VHC: | Seningtons' | Cerysan Athena at Lingbank |
| Special Puppy Bitch (10 entries, 2 absent) | | |
| 1st: | Morgan & Schofield's | Ferndel Butterkist Cwsscwn |
| 2nd: | Harrisons' | Glenbrows Poetry |
| 3rd: | Sandstrom's | Benton Fashionably Late JW |
| Res: | Janes' | Coedybrain Menna |
| VHC: | Revill's | Julita Rinatasha |
| Special Junior Bitch (8 entries) | | |
| 1st: | Tains' | Taimere's Tickled Pink |
| 2nd: | Harrisons' | Glenbrows Beside Me |
| 3rd: | Thomas' | Bowdonia Star Catcher |
| Res: | Caffrey & Dods' | Gellyburn Gaelic Damsel at Balcraig |
| VHC: | O'Connor's | Dunksdream Dizzy Daffodil |
| Yearling Bitch (10 entries) | | |
| 1st: | Morgan's | Garbeth Midsummer Mayhem at Quensha |
| 2nd: | Wetsteyn's | Wingi Our Loyal Welsh |
| 3rd: | Starkey's | Redfrith You Know Me at Mynthurst |
| Res: | Rees' | Typica Country Maid |
| VHC: | Caffrey & Dods' | Gellyburn Gaelic Damsel at Balcraig |
| Post Graduate Bitch (14 entries, 3 absent) | | |
| 1st: | Peet's | Kimdale Dotsanddashes from Highclare |
| 2nd: | Pick's | Llon Alis |
| 3rd: | Gibson's | Cadehill Singin Hinne |
| Res: | Wetsteyn's | Arizona Rhiannon Our Loyal Welsh |
| VHC: | Ritchies' | Slapestones Smooth JW |
| Limit Bitch (16 entries, 1 absent) | | |
| 1st: | Harrisons' & Hartleys' | Glenbrows Tribute to Weslave JW |
| 2nd: | Monday's | Hillrobin Brockanfield among Ambika |
| 3rd: | Masson's | Pennylock Rhian of Manmoel |
| Res: | Abbott's | Norlington Nectar JW |
| VHC: | Lewin's | Ferndel Voyage to Vynesbrook JW ShCM |
| Open Bitch (10 entries, 1 absent) | | |
| 1st: | Ritchies' | Sh Ch Hillrobin Galaxy at Slapestones JW |
| 2nd: | Worths' | Sh Ch Shandwick Premier Rose at Sarabande JW |
| 3rd: | Caffrey & Dods' | Sh Ch Gellyburn Damselfly JW ShCM |
| Res: | Salt's | Sh Ch Kazval Spot On JW |
| VHC: | Thomas' | Sh Ch Bowdonia Sweet Dreams JW |
| Field Trial Bitch (1 entry) | | |
| 1st: | Lewis' | Moorash Titian Lady |
| Special Working Gundog Bitch (3 entries) | | |
| 1st: | Evans' | Sycharth Catrin |
| 2nd: | Whites' | Fiergen Private Dancer |
| 3rd: | Stevensons' | Hillpark Sunset Gold over Blythway |
| Good Citizen Dog Scheme Bitch (8 entries) | | |
| 1st: | Peet's | Kimdale Dotsanddashes from Highclare |
| 2nd: | Wren's | Glenbrows Playtime at Gwynmarren |
| 3rd: | Revill's | Julita Rinatasha |
| Res: | Buckwell's | Killena Addicted To Love |
| VHC: | Michie's | Tobermyn Rhapsody |
CRUFTS 2011
Judge(s): MRS J S STRATTEN
No image available for principle winners
| | | |
| --- | --- | --- |
| DCC & BOB: | Thirlwell's | Ferndel Aeron Magregor |
| Res DCC: | Harrisons' | Sh Ch Glenbrows Picture This JW ShCM |
| BCC: | Ritchie & Tindall's | Slapestones Venus JW |
| Res BCC: | Thirlwell's | Sh Ch Ferndel Short'N Sweet |
| BP: | Knowles' | Menstonia Murphys Law |
| | | |
| --- | --- | --- |
| DOG CLASSES | | |
| Veteran Dog (12 entries, 2 absent) | | |
| 1st: | Knox' | Parkmist Master Plan |
| 2nd: | Wren's | Saanu Copper Beech at Gwynmarren JW ShCM |
| 3rd: | Cemis' | Sh Ch Taimere's Turnabout for Collinsmoore JW |
| Res: | Dyer & Dalrymples' | Balcraig Misty Harbour |
| VHC: | Jacksons' | Menstonia Miami Vice JW |
| Special Puppy Dog (11 entries, 2 absent) | | |
| 1st: | Knowles' | Menstonia Murphys Law |
| 2nd: | Evans' | Typica Kingfisher |
| 3rd: | Jacksons' | Slapestones Atlantic at Hawkroyd |
| Res: | Ritchie & Bardgett's | Slapestones Nevis |
| VHC: | Buckwell's | Killena Song For Guy |
| Special Junior Dog (7 entries, 1 absent) | | |
| 1st: | Botts' | Ferndel Porthos for Maseloch |
| 2nd: | Smolenaers' | Mastermind From Kind Of Magic |
| 3rd: | Harrisons' | Glenbrows Timelord JW |
| Res: | Reynolds' | Glenbrows This Is It at Benoveor |
| VHC: | Backhouse's | Aindrea Lotofunwioutlafin |
| Yearling Dog (12 entries, 3 absent) | | |
| 1st: | Thirlwell's | Ferndel Aeron Magregor |
| 2nd: | Craigs' | Mr Charlie Boy |
| 3rd: | Finlays' | Cerysan Robert Roy |
| Res: | Luckett-Roynon's | Solva Oberon |
| VHC: | Allen's | Pacey Acer |
| Post Graduate Dog (17 entries, 1 absent) | | |
| 1st: | Flockhart's | Cedar Sunset |
| 2nd: | Buckwell's | Killena Iceman |
| 3rd: | Enderby's | Tobermyn Dawn Raider JW |
| Res: | Fergusons' | Menstonia Misty Mountain |
| VHC: | Pick's | Llon Aneurin |
| Limit Dog (15 entries, 2 absent) | | |
| 1st: | Salt's | Islanza On The Ball ShCM |
| 2nd: | Murrays' | Slapestones Mars at Priestbeck |
| 3rd: | Connollys' | Menstonia Mahler at Benmorbry |
| Res: | Dods' | Balcraig Local Hero ShCM |
| VHC: | Smith's | Amblelight Mercury |
| Open Dog (19 entries, 1 absent) | | |
| 1st: | Harrisons' | Sh Ch Glenbrows Picture This JW ShCM |
| 2nd: | Worths' | Sh Ch Shandwick Kristoffer at Sarabande ShCM |
| 3rd: | Rileys' | Ravensworth Armada |
| Res: | Riese-Bassel & Rieses' | Am Ch Statesman's Corinthian |
| VHC: | Wakemans' | Sherdrew Echo Point |
| Field Trial Dog (0 entries) | | |
| Special Working Gundog Dog (1 entry) | | |
| 1st: | Jones' | Pennylock Quin JW |
| Good Citizen Dog Scheme Dog (7 entries) | | |
| 1st: | Jacksons' | Menstonia Miami Vice JW |
| 2nd: | Wakemans' | Sh Ch Sherdrew Echo Point |
| 3rd: | Wren's | Gwynmarren Winter Storm JW |
| Res: | Sandford & Sinclair's | Killena Mustang |
| VHC: | Summers' | Hillrobin Hamblet |
| BITCH CLASSES | | |
| Veteran Bitch (13 entries, 3 absent) | | |
| 1st: | Shentons' | Moorash Titian Star |
| 2nd: | Buckwell's | Killena Hakuna Matata |
| 3rd: | Towers' | Arkview Dancing Fern |
| Res: | Michie's | Tobermyn Tangle |
| VHC: | Buckwell's | Menstonia Love In A Mist for Killena |
| Special Puppy Bitch (7 entries) | | |
| 1st: | Ritchies' | Slapestones Smooth |
| 2nd: | Rees' | Typica Country Maid |
| 3rd: | Frost's | Bodlon Star Attraction by Bushwacker |
| Res: | Starkey's | Redfrith You Know Me at Mynthurst |
| VHC: | Graham & Denwood's | Slapestones Heart |
| Special Junior Bitch (8 entries) | | |
| 1st: | Harrison & Hartley's | Glenbrows Tribute to Weslave JW |
| 2nd: | Backhouse's | Aindrea Ain't Misbehavin |
| 3rd: | Worths' | Shandwick Premier Rose at Sarabande |
| Res: | Howarth's | Ferndel Puzzle for Arkview |
| VHC: | Jolly's | Shandwick Cartier |
| Yearling Bitch (15 entries, 2 absent) | | |
| 1st: | Lewin's | Ferndel Voyage to Vynesbrook JW |
| 2nd: | Frost's | Bushwacker Ms Dynamite |
| 3rd: | Duncans' | Redfrith Betty Boop |
| Res: | Lemin's | Ferndel Summer Glow over Bonvis |
| VHC: | Chandlers' | Glenbrows Paper Pageant |
| Post Graduate Bitch (24 entries, 2 absent) | | |
| 1st: | Monday's | Hillrobin Brockanfield among Ambika |
| 2nd: | Dobbie's | A New Flame for Rockypoint JW |
| 3rd: | Pick's | Llon Alis |
| Res: | Butlers' | Ferndel Take A Chance |
| VHC: | Abbott's | Norlington Nectar JW |
| Limit Bitch (14 entries, 3 absent) | | |
| 1st: | Ritchie & Tindal's | Slapestones Venus JW |
| 2nd: | Thirlwell's | Ferndel Sweet Remedy |
| 3rd: | Michie's | Tobermyn Dawn Chorus |
| Res: | Barnes' | Islemoor Ruby Tuesday with Barhi ShCM |
| VHC: | Gately's | Russethill Rose Finch |
| Open Bitch (13 entries, 2 absent) | | |
| 1st: | Thirlwell's | Sh Ch Ferndel Short N'Sweet |
| 2nd: | Thomas' | Sh Ch Bowdonia Sweet Dreams JW |
| 3rd: | Cedric's | Destiny Child Du Domaine De Kerarzic Vilin |
| Res: | Ritchies' | Sh Ch Hillrobin Galaxy at Slapestones JW |
| VHC: | Caffrey & Dods' | Sh Ch Gellyburn Damselfly JW ShCM |
| Field Trial Bitch (1 entry) | | |
| 1st: | Lewis' | Moorash Titian Lady |
| Special Working Gundog Bitch (1 entry) | | |
| 1st: | Evans' | Sycharth Catrin |
| Good Citizen Dog Scheme Bitch (11 entries) | | |
| 1st: | Wren's | Glenbrows Playtime at Gwynmarren |
| 2nd: | Michie's | Tobermyn Rhapsody |
| 3rd: | Revill & Popkin's | Julita Renya JW |
| Res: | Attwoods' | Kylowen Mawla |
| VHC: | Buckwell's | Menstonia Love In A Mist for Killena |
CRUFTS 2010
Judge(s): MR L MORGAN
No image available for principle winners
| | | |
| --- | --- | --- |
| BCC & BOB: | Waltons' | Hillpark Hillpark Royal Gold |
| Res BCC: | Janes' | Coedybrain Nelli |
| DCC: | Clarke's | Jeavart Different Strokes by Tigerrock |
| Res DCC: | Williams' | Trebettyn Bevin Boy JW |
| BP: | Knowles' | Menstonia Maria |
| | | |
| --- | --- | --- |
| DOG CLASSES | | |
| Veteran Dog (12 entries) | | |
| 1st: | Wren's | Saanu Copper Beech at Gwynmarren JW |
| 2nd: | Cemis' | Sh Ch Taimere's Turnabout for Collinsmoore JW |
| 3rd: | Hills-Pages' | Llon Harri |
| Res: | Dyer & Dalrymples' | Balcraig Misty Harbour |
| VHC: | Anderson's | Cleavehill Llewellyn |
| Special Puppy Dog (7 entries) | | |
| 1st: | Luckett-Roynon's | Solva Oberon |
| 2nd: | Greenwoods' | Menstonia Major General among Telkaro |
| 3rd: | Harrisons' | Glenbrows Paper Wizard |
| Res: | Clarke's | Tigerrock Paddington Bear |
| VHC: | Buckwell's | Killena Iceman |
| Special Junior Dog (6 entries) | | |
| 1st: | Pick's | Llon Aneurin |
| 2nd: | Tews' | Pamicks Dazzling Boy JW |
| 3rd: | Luckett-Roynon's | Solva Oberon |
| Res: | Gills' | Brenrhos Take Me Right Round |
| VHC: | Wakemans' | Bowdonia Chase The Ace |
| Yearling Dog (14 entries, 2 absent) | | |
| 1st: | Clarke's | Jeavart Different Strokes by Tigerrock |
| 2nd: | Graham's | Pennylock Rhys over Nyliram JW |
| 3rd: | Walton & Coffins' | Am Ch Cole Creek Hawk Eye at Hillpark (Imp) |
| Res: | Evans' | Coedybrain Ryan |
| VHC: | Salt's | Islanza On The Ball |
| Post Graduate Dog (14 entries, 1 absent) | | |
| 1st: | Harrisons' | Glenbrows Picture This JW |
| 2nd: | Jacksons' | Slapestones Jupiter at Hawkroyd |
| 3rd: | Tanner & Crowther's | Tannamoor Brychan |
| Res: | Masson's | Peakdale Iestyn Ap Dafydd Manmoel |
| VHC: | Harvey's | Pennylock Red Baron with Mariemead |
| Limit Dog (16 entries, 1 absent) | | |
| 1st: | Williams' | Trebettyn Bevin Boy JW |
| 2nd: | Vassbotn's | Dons Dr MC Dreamy |
| 3rd: | Hepworth's | Glenbrows Paper Dragon at Kamunting |
| Res: | Davis' | Julita Ranger ShCM |
| VHC: | Breeze's | Tannamoor Gwydion of Clynewood |
| Open Dog (12 entries, 4 absent) | | |
| 1st: | Harvey's | Sh Ch Trebettyn Sion among Murprila ShCM |
| 2nd: | Wakemans' | Sherdrew Echo Point |
| 3rd: | Wetsteyn's | Iagos Wind Of Sawel From The North |
| Res: | Neilsons' | Sh Ch Arkview Chicago at Llawkrik |
| VHC: | Masson's | Coedybrain Geraint of Manmoel |
| Field Trial Dog (0 entries) | | |
| Special Working Gundog Dog (2 entries) | | |
| 1st: | Jones' | Pennylock Quin JW |
| 2nd: | Zemanek's | Twigle Noor |
| Good Citizen Dog Scheme Dog (8 entries, 1 absent) | | |
| 1st: | Clarke's | Jeavart Different Strokes by Tigerrock |
| 2nd: | Breeze's | Tannamoor Gwydion of Clynewood |
| 3rd: | Tanner & Crowther's | Tannamoor Brychan |
| Res: | Hill-Pages' | Highclare Saddlers Wells |
| VHC: | Wren's | Gwynmarren Winter Storm JW |
| | | |
| BITCH CLASSES | | |
| Veteran Bitch (10 entries, 4 absent) | | |
| 1st: | Luckett-Roynon's | Solva Columbine |
| 2nd: | Janes' | Coedybrain Eirianne |
| 3rd: | Waltons' | Hillpark Crimson Glory |
| Res: | Caldwell's | Highclare Spring To Action for Cerysan |
| VHC: | Buckwell's' | Killena Hakuna Matata |
| Special Puppy Bitch (8 entries) | | |
| 1st: | Knowles' | Menstonia Maria |
| 2nd: | Harrisons' | Glenbrows Kamunting Annabelle |
| 3rd: | Duncans' | Redfrith Betty Boop |
| Res: | Butler & Riley's | Ravensworth Mairwen |
| Special Junior Bitch (8 entries, 1 absent) | | |
| 1st: | Thomas' | Bowdonia Sweet Dreams |
| 2nd: | Revill & Popkin's | Julita Renya |
| 3rd: | Pick's | Llon Alis |
| Res: | Sutherland's | Julita Rezanella |
| VHC: | Dobbie's | A New Flame for Rockypoint JW |
| Yearling Bitch (17 entries, 1 absent) | | |
| 1st: | Jones' | Pennylock Ruby Red |
| 2nd: | Thirlwell's | Ferndel Sweet Remedy |
| 3rd: | Masson's | Coedybrain Rebecca of Manmoel |
| Res: | Harrisons' | Glenbrows Please Please Me JW |
| VHC: | Butlers' | Ferndel Take A Chance |
| Post Graduate Bitch (14 entries, 3 absent) | | |
| 1st: | Ritchie & Tindal's | Slapestones Venus JW |
| 2nd: | Davidson & Wells' | Pamicks Miss Understood by Benchmark |
| 3rd: | Ince's | Glenbrows Paper Rose for Swiftview |
| Res: | Buckwell's | Killena Dancing In The Moonlight |
| VHC: | Shawyers' | Menstonia Misty Dreams |
| Limit Bitch (15 entries, 2 absent) | | |
| 1st: | Janes' | Coedybrain Nelli |
| 2nd: | Salt & Young's | Kazval Crime Of Passion |
| 3rd: | Shentons' | Moorash Titian Star |
| Res: | Pick's | Coedybrain Nerys Gyda Llon |
| VHC: | Tanner & Crowther's | Tannamoor Anwen |
CRUFTS 2009
Judge(s): Mrs T J Short
No image available for principle winners
| | | |
| --- | --- | --- |
| BOB & BCC: | Ritchies' | Hillrobin Galaxy at Slapestones |
| Res BCC: | Tains' | Sh Ch Ingsman Acer at Taimere JW ShCM |
| DCC: | Hartleys' | Sh Ch Weslave Hot Property |
| Res DCC: | Hepworth's | Glenbrows Paper Dragon at Kamunting |
| BP: | Harrisons' | Glenbrows Picture This |
| | | |
| --- | --- | --- |
| DOG CLASSES | | |
| Veteran Dog (10 entries, 2 absent) | | |
| 1st: | Abbotts' | Norlington Night Magic |
| 2nd: | Harrisons' | Sh Ch Ferndel Storyteller for Glenbrows |
| 3rd: | Reynolds' | Roxdale Arofan Rinold by Benoveor |
| Res: | Buckwell's | Killena Dance Into The Night |
| VHC: | Tubbs' | Melladomina Make Haste for Alsutu |
| Special Puppy Dog (7 entries, 1 absent) | | |
| 1st: | Harrisons' | Glenbrows Picture This |
| 2nd: | Graham's | Pennylock Rhys over Nyliram |
| 3rd: | Murray's | Slapestones Mars at Priestbeck |
| Res: | Summers' | Hillrobin Hamblet |
| VHC: | Jackson's | Slapestones Jupiter |
| Special Junior Dog (4 entries) | | |
| 1st: | Harrisons' | Glenbrows Picture This |
| 2nd: | Reynolds' | Kylowen Quin of Benoveor |
| 3rd: | Rycroft's | Haslemount Maestro |
| Res: | Voyce's | Kylowen Quethiock |
| Yearling Dog (8 entries) | | |
| 1st: | Hepworth's | Glenbrows Paper Dragon at Kamunting |
| 2nd: | Morgan & Schofield's | Cwsscwn Soul Mate |
| 3rd: | Wetsteyn's | Iagos Wind Of Sawel from the North |
| Res: | Boumonte's | Whitestone Joyful Ziggy of Roxdale |
| VHC: | Evans' | Cherryheath Mr Excel |
| Post Graduate Dog (13 entries, 1 absent) | | |
| 1st: | Revill's | Julita Ranger |
| 2nd: | Irvine's | Bushwacker Chilli Pepper of Broomwalk |
| 3rd: | Tanner & Crowther's | Tannamoor Brychan |
| Res: | Thomas' | Bowdonia Special Effects |
| VHC: | White's | Fiergen Break Dancer |
| Limit Dog (16 entries, 2 absent) | | |
| 1st: | Wakeman's | Sherdrew Echo Point |
| 2nd: | Vassbotn's | Dons Dr MC Dreamy |
| 3rd: | Lazenby's | Melladomina Must Be So |
| Res: | Breeze's | Tannamoor Gwydion of Clynewood |
| VHC: | Tester's | Avilt Neferusobek |
| Open Dog (14 entries, 1 absent) | | |
| 1st: | Hartleys' | Sh Ch Weslave Hot Property |
| 2nd: | Ritchies' | Sh Ch Slapestones Tornado |
| 3rd: | Cummings' | Sh Ch/Ir Sh Ch Ferndel Maverick |
| Res: | Murrays' | Sh Ch Slapestones Twister over Priestbeck JW |
| VHC: | Scarth & Leicester's | Russethill Robyn Adair |
| Field Trial Dog (1 entry) | | |
| 1st: | Steadman's | Atalas Jack The Lad at Stedigan |
| Special Working Gundog Dog (2 entries, 1 absent) | | |
| 1st: | Janek's | Ralf Jankina Zahrada |
| Good Citizen Dog Scheme Dog (7 entries,1 absent) | | |
| 1st: | Barnes' | Sh Ch Barhi Crouching Tiger |
| 2nd: | Cemis' | Sh Ch Taimere's Turnabout for Collinsmoore |
| 3rd: | Breeze's | Tannamoor Gwydion of Clynewood |
| Res: | Tubb's | Melladomina Make Haste for Alsutu |
| VHC: | Wren's | Saanu Copper Beech at Gwynmarren JW ShCM |
| | | |
| BITCH CLASSES | | |
| Veteran Bitch (8 entries, 1 absent) | | |
| 1st: | Tully's | Ch Highclare Energizer |
| 2nd: | Duncans' | Ir Sh Ch Redfrith Aberfeldy |
| 3rd: | Morgan & Bott's | Sh Ch Ferndel The Chosen One for Quensha |
| Res: | Caldwell's | Highclare Spring To Action for Cerysan |
| VHC: | Waltons' | Cleavehill Dilys at Hillpark |
| Special Puppy Bitch (8 entries, 1 absent) | | |
| 1st: | Ritchie & Tindal's | Slapestones Venus |
| 2nd: | Thirlwell's | Ferndel Short N'Sweet |
| 3rd: | Harrisons' | Glenbrows Past Magic |
| Res: | Davidson & Wells' | Pamicks Miss Understood by Benchmark |
| VHC: | Shenton's | Moorash Lady Guinevere |
| Special Junior Bitch (11 entries, 2 absent) | | |
| 1st: | Thirlwell's | Ferndel Sweet Remedy |
| 2nd: | Leary's | Haslemount Heulwen JW |
| 3rd: | Gately's | Russethill Rose Finch |
| Res: | Janek's | Cwrtafon Cerian |
| VHC: | Morgan & Roberts' | Cwrtafon Hafina |
| Yearling Bitch (11 entries, 1 absent) | | |
| 1st: | Young's | Kazval Crime Of Passion |
| 2nd: | Ince's | Glenbrows Paper Rose for Swiftview |
| 3rd: | Short's | Cwsscwn Northern Soul of Toftwood |
| Res: | Morgan & Schofield's | Cwsscwn Soul Sister |
| VHC: | Duverge & Jenkins' | Rhoselan Rising Moon |
| Post Graduate Bitch (14 entries, 4 absent) | | |
| 1st: | Ritchies' | Hillrobin Galaxy at Slapestones |
| 2nd: | Caldwell's | Cerysan Purely By Chance |
| 3rd: | Tanner & Crowther's | Tannamoor Anwen |
| Res: | Carr's | Cerysan Take A Chance at Gemill |
| VHC: | Wakeman's | Sherdrew Kirby Lonsdale |
| Limit Bitch (12 entries) | | |
| 1st: | Bryant's | Thurbry Hedda Hope |
| 2nd: | Senington's | Cerysan Athena at Lingbank |
| 3rd: | Walton's | Hillpark Royal Gold |
| Res: | Caldwell's | Cerysan Alexa |
| VHC: | Tews' | Pamicks Miss Holly Hocks JW |
| Open Bitch (12 entries, 5 absent) | | |
| 1st: | Tain's | Sh Ch Ingsman Acer at Taimere |
| 2nd: | Rees' | Sh Ch Coedybrain Carys at Typica |
| 3rd: | Graham's | Sh Ch Aindrea Miss Caruso from Nyliram |
| Res: | Ross' | Beagmhor Lagavulin |
| VHC: | Baker's | Anibesco Standing Ovation ShCM |
| Field Trial Bitch (2 entries) | | |
| 1st: | Smith's | Isfryn Ghost Swift |
| 2nd: | Lewis' | Moorash Titian Lady |
| Special Working Gundog Bitch (2 entries) | | |
| 1st: | Evans' | Sycharth Catrin |
| Good Citizen Dog Scheme Bitch (12 entries, 6 absent) | | |
| 1st: | Michie's | Tobermyn Tangle |
| 2nd: | Evans' | Sycharth Catrin |
| 3rd: | Wren's | Ferndel Piaf at Gwynmarren |
| Res: | Tanner & Crowther's | Tannamoor Anryhdedd |
| VHC: | Buckwell's | Killena Addicted To Love |